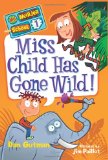 First there was My Weird School where we met A.J. and his 2nd grade class, then My Weird School Daze which brought them to 3rd grade, and now A.J. and the gang are still in 3rd grade in the first two books in the My Weirder School series
My daughter read some of these books in elementary school, but I had never checked them out until I was sent Miss Child Has Gone Wild and Mr. Harrison Is Embarrassin'!. After reading them, I can see the appeal.
I think that these books straddle the line between the silly humor kids love with appropriate moral themes and use of language that parents want. The kids at Ella Mentary school are real kids. A.J. calls Emily the cry-baby and is always trying to think of a put-down for Andrea, but they are normal 3rd grade kids of put downs, and remember, kids are great detectors of truth. They want to read about kids who seem real.
A perfect example of kid-friendly and parent-approved is the way the boys changed the lines to the popular "Clean Up, Clean Up" song that all the kids were singing when they had to tidy the room: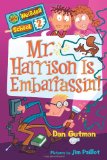 ". . . me and the guys changed the last line to 'Even in your underwear.'
It was hilarious. Anything to do with underwear is hilarious."
I really respect authors. I have come to feel a special affinity for guys who make sure that there are books out there that boys will want to read. Dan Gutman is one of those guys. On his amazon page, he says this about himself:
I'm a pretty regular Jersey guy who spent fifteen years trying to write newspaper articles, magazine articles, screenplays, books for adults, and just about everything else before I discovered the one thing I'm good at–writing fiction for kids. I aim for kids who DON'T like to read, and hopefully the kids who DO like to read will enjoy my stuff too. For all the gory details about me, check out my web site.
Kyle (7) enjoyed these books, and I am glad I checked them out too. I am beginning to have similar irrational feelings of love for these short chapter book series as I have for board books. I love that they are easy-to-read and accessible, inexpensive and enjoyable for kids ready for chapter books, whether those kids are a young 7 like Kyle, or a struggling 9-year-old.
Miss Child Has Gone Wild and Mr. Harrison Is Embarrassin'!, the first two books in the My Weirder School series are out now and a 3rd will join them this fall.
Jennifer Donovan isn't ashamed of her love affair with books. Find out more about her and family at her Snapshot blog.