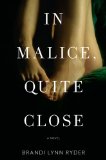 In Malice, Quite Close
is the kind of book that gets into your head and lingers there. It's got a gripping plot and it's really well-written, so that it pulls you in. Don't get into the trap of reading too fast though. This is a book to read slowly, enjoying the descriptions of houses and places that will have you feeling you're there.
The book's opening will turn off the more faint-hearted readers. We are introduced to Tristan Mourault, a 34-year-old French expatriate who is urbane, educated, fabulously wealthy, and sole owner of a huge collection of Impressionist art, along with his new obsession—15 year-old Karen Miller, a middle-class teenager in San Francisco. From his first glimpse of her, he knows he must have her. He stages a campaign of romance and enchantment—flattering her, enticing her. She is willing to be enticed, coming from an abusive home, but she is close to her little sister. Although she willingly goes with him in the end, he fakes her death to keep them from being followed and lies to her to keep her in his thrall.
Karen is transformed into Gisèle, and presented to the world as Tristan's daughter. The novel moves backs and forth between Tristan's voice, tracing the events of the years from their first meeting to the present, and the voice of 11-year-old Nicola, Gisèle's daughter. When Karen/Gisèle is found floating in the swimming pool, her scarlet robe blossoming like blood around her, the hunt is on for who the killer could be, which of the men who profess to love her could have done such a deed. The novel twists and turns, but it's that sort of novel, and it's well-written enough that I didn't start rolling my eyes at all the events of the last few chapters—mostly because they all fit the plot and characters nicely, and because you sensed all along there were other layers and meanings.
Tristan, Gisèle, her "husband" (who fills the role only for appearances, a fact clear to everyone but himself) and daughter, live in a gorgeous European house in the imaginary Devon, Washington, which is rather like Carmel-by-the-Sea if it was located in the Cascade Mountains—a small, ultra-chic and expensive town filled with galleries, artists, and people who profess to love art and have the money to buy it. A revolving cast of artists and friends come through, each with his or her own interpretation of things and his or her own plans and desires.
In Malice, Quite Close
is kind of a creepy novel and you don't necessarily love the characters—there are only about 2 I'd want to have coffee with, for example—but at the same time it's a really good book. It's tightly plotted and the characters are true to themselves. It stays with you.
Elizabeth often fantasizes about having coffee with her favorite characters from books. Read more at her blog Planet Nomad.