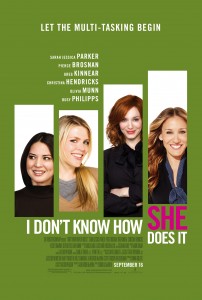 I've seen the previews for the new movie I Don't Know How She Does It starring Sarah Jessica Parker, Greg Kinnear, Pierce Brosnan and Kelsey Grammar (and more). The cast is incredible, and the previews look great. It looks like a fun mom's night out sort of movie — one that I figured I'd rent when it came to DVD.
It's the kind of movie that I figure I'd enjoy, but is it too real to be entertaining? After all, even though I'm not a working mother as Sarah Jessica Parker is in the movie, I am quite aware of the difficulties of balancing personal growth, motherhood, and marriage, and oh yeah, what about housekeeping, sleep, and leisure? However, knowing that it's based on a book tells me that it might be more than just a fluffy chick flick. I actually enjoy reading books that feature characters with lives remarkably similar to mine, and the same goes for a well-made movie.
Heck, it's cheaper than therapy, right?
I was recently approached with an offer to give away the book on which the movie was based along with a movie poster (pictured), and I jumped at the chance.
Check out the preview below and keep reading to see how you can win:
You can also "like" them on Facebook and find out more at the website. The movie opens this weekend!

If you'd like to win a copy of the book I Don't Know How She Does It and a movie poster, please leave a comment below.
To make it fun, leave a comment telling me how YOU do it. What's one secret to multitasking that you've mastered? Or if you are too busy to be creative, just leave a comment, and you still might win the book and the poster.The giveaway is closed.
Don't miss a thing: Check out our current giveaways. Subscribe to our feed or video reviews on YouTube. Follow us @5M4B on Twitter or on Facebook.
Jennifer Donovan doesn't really do it all, but she does try to foster an independent spirit in her children so that she doesn't have to it. The words "I'll do it myself" are music to her ears. She blogs at Snapshot.