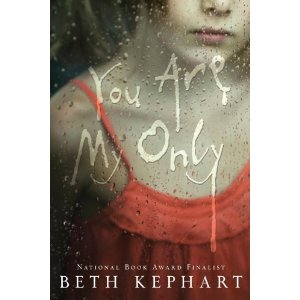 I've never read anything by Beth Kephart, but she's always been one of those authors who is closely tied in with book bloggers, so I've always heard lovely things about her books for young adults. When I saw her latest, You Are My Only, on NetGalley, I snatched it up, excited to finally read one of her novels (even though I have an unread copy of Dangerous Neighbors sitting on my shelf that another book blogger sent me).
The publisher's description says it all:

Emmy Rane is married at nineteen, a mother by twenty. Trapped in a life with a husband she no longer loves, Baby is her only joy. Then one sunny day in September, Emmy takes a few fateful steps away from her baby and returns to find her missing. All that is left behind is a yellow sock.
Fourteen years later, Sophie, a homeschooled, reclusive teenage girl is forced to move frequently and abruptly from place to place, perpetually running from what her mother calls the "No Good." One afternoon, Sophie breaks the rules, ventures out, and meets Joey and his two aunts. It is this loving family that gives Sophie the courage to look into her past. What she discovers changes her world forever. . . .
I enjoyed You Are My Only a lot. I wondered if the description would appeal to the target audience, but as I thought about it, I realized it is exactly the kind of book I read when I was in middle school and early in high school. My perception has changed a bit, because my own middle-school daughter is an action/fantasy kind of girl, not so much about the dramatic character-driven fiction. However, though she hasn't read it yet, when I showed her the summary, she said that she would like to read it, so I guess I'll be handing over my Kindle sometime soon.
To my mind, as I was reading it, the story was Sophie's, who is the same age as the girls who will hopefully be reading the book, and so it's definitely relevant to them. Most young teens feel trapped in some way. If not physically isolataed like Sophie is, they often feel so different from their parents or their peers, that they experience the same things. Seeing Sophie unfold and set herself free was a poignant and thoughtful exercise for me.
I wouldn't normally post a review of a book a month before it publishes, because I think in general those who read this blog are consumers, not industry folks, and so it's more effective to see a timely post so that you can rush off to your library or click over to amazon right then. However, this is a little different. Pre-publishing buzz is important in the publishing world, and it can determine the kind of launch a book gets.
As I mentioned, I hear a lot about Beth Kephart, because she has close ties with some book bloggers (Her blog Beth Kephart Books is a finalist for the Best Published Author blog in the Book Blogger Appreciation Week awards). Even though I don't "know" Beth, even online, I "know" some of the book bloggers who banded together to help her and encouraged others (like me) to post early reviews of the book.
It was a win-win for me. Reading one of her books sometime was on "my list," I had already downloaded You Are My Only from NetGalley, so the only thing I changed as a result of this call to action was to read and review it sooner.
I love books and adore getting lost in a story. If it weren't for talented and devoted authors, who give more and more of their own time and effort and money to promoting the books that are lucky enough to go to print, I wouldn't be able to enjoy my favorite pasttime. Being a book blogger is a privilege to me, because I am exposed to books that I might otherwise miss, and then I get to pass the little darlings along to you.
Jennifer Donovan wonders if she'll ever find the discipline to write her own book. For now, she reads and she writes — mostly reviews, but on occasion she posts a thought or two at her blog Snapshot.
Don't miss a thing: Check out our current giveaways. Subscribe to our feed or video reviews on YouTube. Follow us @5M4B on Twitter or on Facebook.