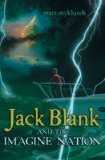 Miserable. If you live at an institution called a "Home for the Hopeless, Abandoned, Forgotten and Lost," odds are that your life is pretty miserable. (And when the nameplate for that institution also reads "Crushing the Spirit of Childhood Since 1898," you as a reader know that the author of the book you are reading certainly has a solid sense of humor.) Such is the case for Jack, the central character in Matt Myklusch's new middle grade novel Jack Blank and the Imagine Nation, the first of the adventurous trilogy. If my wishes are heeded, this is a series that will be well-known and much loved by readers of all ages.
Sure, it's another story of an orphaned boy who isn't aware of the powers hiding within him, and yes, he goes off to an unknown world hidden within the one we reside, and yup, this is only the beginning of a series. It's undeniable that comparisons will be drawn between Jack and the well-known Harry, as they both are truly likable and honorable young men confronted with a painful childhood and asked to take on incredible challenges for the greater good. But credit must go to Matt Myklusch for creating a unique story that will break free of these comparisons, because truth be told, it's a format that's been around a lot longer than J.K. Rowling.
The Imagine Nation is more than just a clever place name. It's an island that houses the unbelievable– among them aliens, robots, superheroes, and more. For Jack, the Imagine Nation represents a chance to discover who he is, for the "Blank" is no last name, but merely a word to represent the fact that his parents and heritage are completely unknown. Of course, though, nothing comes easy, and while he may have an opportunity to leave the world of the "Hopeless and Abandoned" behind, he will face unbelievable challenges in his new journey.
Jack's experiences pop off the page with boldness and power, just like the comic book stories that form much of the background. Jack Blank and the Imagine Nation is full of action, heroes, and villains and is tempered with valuable messages of honesty, honor, courage and friendship. For its humor, memorable characters, one-of-a-kind setting (and the fabulous capability to immediately captivate a 30-something year old woman into the story!), I'm happy to give Jack Blank and the Imagine Nation the honor of being counted among our 5 Star Reads.
While she may not be in possession of a fabulous imagination herself, Dawn does enjoy sharing the craziness of real life at her blog, my thoughts exactly.