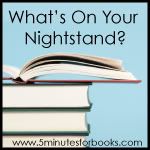 What books are sitting on your nightstand — or coffee table or in your bathroom in your e-reader or on your ipod? What books are you looking forward to reading this month when you get a nice chunk of time?
Will back-to-school impact your reading for the month? I think that it will for me, but I'm not sure how. With my son starting first grade, this is the first year I'll have both kids in school full time. I also am hoping to get more work from home done, so while I envision myself reading away the hours on my back deck or front porch in the warm-but-not-hot September days, I'm not sure that's reality.
That remains to be seen, but a girl can dream. I've made my list (see the linky below). Have you made yours? We invite you to write up a quick list, take a picture, do a mini review of a book you've just completed — whatever you like. This is a freestyle carnival, but one that brings booklovers together!
Check out our current giveaways. Subscribe to our feed. Follow us @5M4B on Twitter.
What's on Your Nightstand? Participants
Powered by… Mister Linky's Magical Widgets.