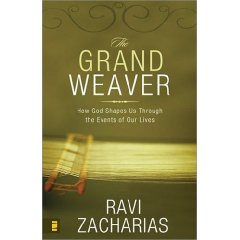 I received this book from Zondervan and, having just completed reading it, I cannot recommend it highly enough. Earlier this year I read Zacharias' Walking from East to West (you can read my review here) and, although I had briefly encountered Zacharias' ministry, that was my first time to really engage with the man himself. I was impressed, inspired and encouraged. Hence I was eager to get my hands on another of his books.
The Grand Weaver is subtitled How God Shapes Us Through the Events of Our Lives. I don't know a person who couldn't stand a little encouragement that God has everything under control. In fact, God has purposefully orchestrated each one of our lives into little masterpieces. HIS masterpiece. We are each designed with purpose and feeling and made for His glory.
Zacharias addresses topics that are frequent areas of doubt for humans in general. From feeling bad about your body make-up, dealing with life's disappointments, searching for your calling and purpose in life and feeling stumped by the process, Zacharias faces each dart the enemy would throw our way to try to convince us that we are unworthy of our highest calling to love and be loved by Christ Jesus.
I finished this book and told my husband that I'm just a little bit shy of calling Zacharias the C.S. Lewis of our time. I'm certain that would cause a minor uproar but I'm leaning that direction. I like the way Zacharias thinks and makes his reader think. He is in pursuit of truth and explains his journeys and the conclusions he has landed on in a simple way for anyone to understand. He promotes thought and encourages his reader to press on to learn, to grow and to believe. I love this man. I'm grateful for his life and ministry.
I really cannot recommend this book more highly. Whether you are personally discouraged with your lot in life or just need a reminder that God is weaving a story in and through you that is most beautiful, I would strongly suggest you read this book. It was one of those books that wasn't long enough for my tastes as chapter after chapter inspired and comforted me.
Read it. Drink it in. Live it.
Carrie comes by her book obsession honestly, having descended from a long line of bibliophiles. She blogs about books regularly at Reading to Know.