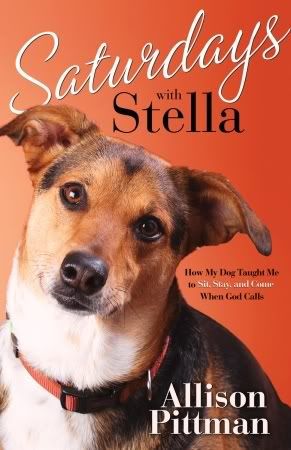 Okay, I'll admit it: I'm no dog lover. Interesting, really, because we always had a dog growing up. My mom loves dogs and has never been long without a canine companion. Not me. There's only been one dog I have tolerated, our Belle, the golden retriever my husband purchased not long after we were married. She was the best kind of dog, never jumped up on anyone and even allowed my baby to crawl all over her. Such a good kind of dog that we allowed her to live in the house with us. Really, we did.
We no longer have Belle, dogless for several years now. However, I'd be lying if I said my boys wouldn't like another, especially my number three boy. But I remain adamant. I know how these things work. I've told them they can get a dog but after four boys (the good dog Belle notwithstanding), I have served my time with poop and pee.
We remain dogless.
But I digress. I am here to tell you about Allison Pittman's book Saturdays with Stella, a compilation of the lessons she learned at obedience school with her dog Stella. Allison writes with such obvious affection for Stella, it almost persuades a non-dog lover like me. Almost.
But whether you are a friend of man's best friend or not, there is much truth in Allison's observations. With humor and insight, she shares important lessons such as:
sit–at the feet of Jesus and listen for His voice
come–when the Master calls
stay–in His presence
This is no deep theological treatise, but rather a delightful metaphor of obedience as well as a thoughtful and sometimes funny tribute to Stella.
Read an excerpt of Stella's story here.
Wife and mother, Bible teacher and blogger, Lisa loves Jesus, coffee, dark chocolate and, of course, books. Read more of her reflections at Lisa writes….