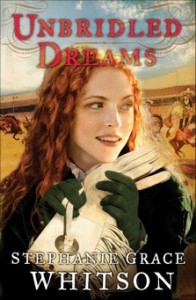 When I was a teenager, my mother and I didn't always see eye to eye. I had my plans, and I felt my mother just didn't understand. Of course, she was simply trying to guide me through a difficult period as best she could, and she always had my best interests at heart. I feel certain that many young women and their mothers have had similar experiences.
Seventeen-year-old Irma Friedrich and her mother Willa are in the middle of this rocky time. Irma has her heart set on wowing crowds as a headliner attraction in Bill Cody's Wild West show, while Willa is determined that Irma will forget her pipe dream and attend finishing school as all refined young ladies should. When Mr. Friedrich intervenes and helps Irma land a role in the show, relationships in the Friedrich family unravel.
In Unbridled Dreams
, Stephanie Grace Whitson spins a wonderful tale of forgiveness and reconciliation. Many of the characters are forced to examine their past and present relationships in light of these themes. One of the aspects of historical fiction that I enjoy is reading a timeless story within the setting of actual events. I enjoyed following Irma as her character developed and matured (she could have been a young lady in any time period), and I found the popular Wild West show, which featured such performers as Annie Oakley and her husband Frank Butler, and the life of Buffalo Bill Cody fascinating.
Although I felt the ending was a bit abrupt (I still had a few unanswered questions about some of the minor characters), Unbridled Dreams
was a fun book to read with an excellent message. I was sad to see it come to an end. Stephanie Grace Whitson, a two time Christy award finalist, has written a touching story that will be enjoyed by many.
To read an excerpt from this book, click here.
Lauren is a wife, a mother of two, and an avid reader. She blogs at Baseballs and Bows.