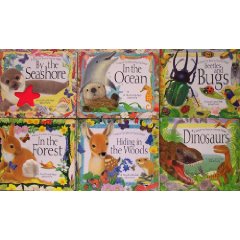 I received three titles from the Nature Trails Books by Maurice Pledger published by Silver Dolphin. I've been looking for beginning science books for my 2 year old and these books looked very promising. These particular books are targeted for kids ages 4 and up (for the most part) and I wasn't sure that we'd be making good use of them now or if they would be something we would need to wait on reading.
In short, my two year old was instantly interested in these books. These books are interactive and fun. There are textures to feel, fold-out pages scattered throughout and are wonderfully illustrated. The pages are a little busy but that didn't prevent my son from wanting to point out and talk about the various animals that he saw. This is a great series. I like the fact that the illustrations catch his present attention for the simplistic aspect of this book (animal identification) and yet it's still a series he can grow into over time, continually gleaning from the information offered about the individual animals, their habitats and traits.
Each page is descriptive in content and explanation. Every animal is identified and, as mentioned, there are textures scattered throughout. We stayed busy with these books for a little while. Our favorite was the Hiding in the Woods title, specifically because of the deer. We live on the outskirts of town and frequently have deer running through our yard which is a highlight of our day, of course. Finding them in books provides double the pleasure.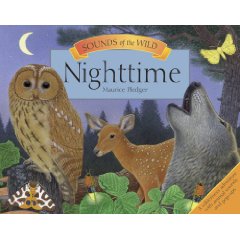 We also received Pledger's Sounds of Nighttime book which has been dubbed the "loud book." Every other page has a pop-out scene and once the page is opened, a cacophony of animal noises arise from the book. Mommy thinks it's too cute. It took some getting used to for the boy but eventually he was hooting like an owl with the best of them. GREAT book and very unique. I like it a lot. Excellent gift idea.
We love this series and give it four thumbs up!
Carrie comes by her book obsession honestly, having descended from a long line of bibliophiles. She blogs about books regularly at Reading to Know.