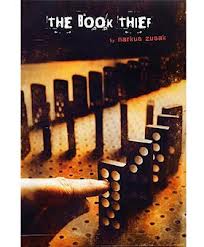 When I mentioned on my personal blog that I had recently read and loved The Book Thief by Markus Zusak, our managing editor Jennifer, ever the taskmaster, suggested I write up a review for our site here. I told her I wasn't sure I had much to offer by way of review other than 1) it's fantastic! and 2) go read it already!
Side note: Totally kidding about the taskmaster bit! Jennifer is great!
The Book Thief is compelling… haunting… sad… hopeful… different… unique… beautifully written… full of richly drawn characters that I grew to love… a book I could not put down until I had devoured it, finishing it with tears in my eyes… need I go on? I could offer you a plot summary, the likes of which you can read at amazon or any other bookseller's site. Even as I would try to describe to you the storyline, naming Death as the storyteller and Nazi Germany the setting, you might write it off as too sad and maybe a little too strange. Death? The narrator?
Yes, Death tells us the story of Liesel, a young German girl, the book thief herself. Death narrates, but it's not as morbid as you might think. He's self deprecating and almost humorous at times, writing with sparse prose and occasional understated wit, offering various "newsflashes" with bold type and all caps. He is thoroughly fascinated with human resilience and courage as well as the power of love. And, as you might expect, Death is no bit player in the story. It's Nazi Germany after all. So, yeah, it's a sad book, but not wholly so. As I said, I grew to love Liesel, her foster parents, particularly her father, as well as the young Jew Max who came to live in their basement and Rudy, her yellow haired partner in crime.
So, for my review: 1) It's fantastic. One of the best books I've read, a distinction I don't like to toss around easily. I loved it.
2) Now, go read it. Already.
Note: I think here in the US it is marketed as a YA novel so parents may want to note that there is some coarse language, though mostly in German with the occasional translation (!).
Wife and mother, Bible teacher and blogger, Lisa loves Jesus, coffee, dark chocolate and, of course, books. Read more of her reflections at Lisa writes….