Several months ago, a friend suggested that I read a book by Jhumpa Lahiri. In searching the reviews of that particular book, I discovered that her latest work, Unaccustomed Earth: Stories, is a compilation of short stories that's also receiving rave reviews. I don't believe I've ever read a book of short stories before, so I thought I'd expand my horizons.
Each of the stories center upon the complicated relationships in our lives. The bonds between siblings, spouses, parents and children are a common thread the Lahiri eloquently weaves throughout the book.
In the title story, young mother Ruma is expecting her second child. Her father, recently widowed, comes to visit Ruma while her husband is away on business. Both are burdened by the sense of duty the visit brings, and both sorely miss the bridge Ruma's mother provided for their relationship. The tension between Ruma's decidedly American life and her father's adherence to his Bengali roots bubbles just under the surface…obvious but unspoken.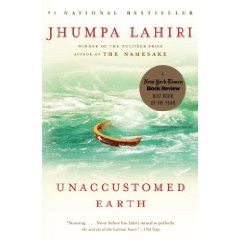 Hell-Heaven is a grown woman's recollection of the relationship her family develops with a Bengali student who becomes part of their family. She watches as her mother, stuck in a loveless arranged marriage, develops feelings for the young man. Still, she doesn't realize how intense her mother's feelings are until she herself is grown.
Lahiri's writing is intensely beautiful and emotionally gripping. As written on the inside cover:
Unaccustomed Earth is rich with Jhumpa Lahiri's signature gifts: exquisite prose, emotional wisdom, and the subtle renderings of the most intricate workings of the heart and mind.
I must say that I agree wholeheartedly. I will definitely be adding her other works to my "to be read" pile.
Melissa has been captivated by books for as long as she can remember. She resides in Virginia at at Breath of Life.