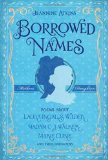 All booklovers have literary heroines: Jane Austen, Louisa May Alcott, Lucy Maud Montgomery, Laura Ingalls Wilder. This gift package pays tribute to some of these.
Borrowed Names: Poems About Laura Ingalls Wilder, Madam C.J. Walker, Marie Curie, and Their Daughters, a Young Adult title, shares the lives of these three women and their daughters in poetry form. All three of these women were born in the same year, 1867. Each section features poems about these women and their daughters, written by author Jeannine Atkins, whose goal was to turn history into poetry.
I especially enjoyed the the poem "Not Today" in the section on Laura Ingalls Wilder that shows a writer's heart — a part of which I've shared below:
Life tempts most away from paper and pen,
but gently bring yourself back.
Who can resist gingerbread
with chocolate frosting,
but do you need to bake it now? (page 72)
The section on Madame C.J. Walker, a civil rights crusader, is especially rich with the bond of mother and daughter, whom she promised, "Everything will be different for you" (page 83).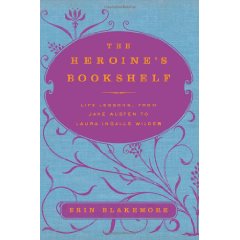 The Heroine's Bookshelf: Life Lessons, from Jane Austen to Laura Ingalls Wilder presents "life lessons" such as compassion, self, ambition, happiness, and faith, among others. They are presented in individual chapters in which the author evaluates the way this trait is shown in the book through one character, and also delves into the author's life. In some cases, such as Lucy Maud Montgomery, the "Happiness" that Anne Shirley expresses contrasts from the author's life. In other chapters, such as the one on Lizzy Bennet's "Self," the similarity to the author Jane Austen is obvious.
Each chapter ends with guidance as to when to "Read This Book" (such as "when your mother complains you'll never give her grandchildren" — see "Self" above — or "when tempted to buy something you don't need" (from the chapter "Simplicity" based on Laura Ingalls Wilder's book). Blakemore also includes some further examples of that heroine's literary sisters.
This book is worth purchasing for the author Erin Blakemore's introduction about the place of books in her life alone. I'll give you the beginning and the end of this delightful chapter, and let you fill in the rest for yourself:
"In times of struggle, there are as many reasons not to read as there are to breathe. Don't you have better things to do? . . . Who chooses to read when there are better things to do?" (page xi)

and in conclusion:

"In times of struggle, there are as many reasons not to read as there are to breathe. Accompanied by the heroines on my bookshelf, I choose to do both" (page xxii).
This little hardcover book would make a great gift for a favorite teacher or any other booklover on your list, or an indulgence for yourself, perhaps paired with a nice edition of one of the books mentioned inside (see below!).
I'm awarding this book a place on our 5 Star Reads page.
I read and re-read the Little House books throughout my elementary school years (and maybe even later). My fast-paced adventure, fantasy, and mystery-loving daughter just never fell in love with Laura Ingalls Wilder like I did, much to my chagrin.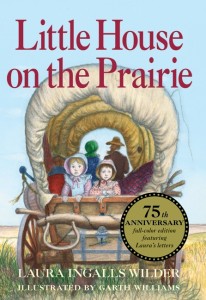 When I saw the new Harper Collins Little House on the Prairie 75th Anniversary Edition all that childhood love came bubbling back up. This hardcover book is beautiful. It features the line drawings by Garth Williams that are familiar to most of us, but in full color.
It also features Laura's letters (that I think were previously published in a separate volume, which of course I have) and information about the musical that has been made as well.
This would be a lovely book to give to a little girl with whom you want to share your love of Laura. Or maybe you'd like to give a grown-up Laura fan a nostalgic trip down memory lane.

I am happy to be able to give away a copy of each of these books to one of you (U.S. shipping addresses only, please). This giveaway is closed.
Jennifer Donovan counts authors as the people she most admires. She blogs about other things that impress her at Snapshot.



Leave a comment here to enter.
Entries will be closed on December 3, and we will announce the winners on December 4. Please watch your email and check the site for your name, so that we can collect your shipping information to pass along to the publishers.
Be sure you've entered all the giveaways in our 2010 Gift Guide and Giveaway event.

Check out our current giveaways. Subscribe to our feed. Follow us @5M4B on Twitter.