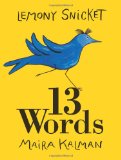 Are you familiar with Lemony Snicket? I have to admit that I was not, so I was a bit unprepared when I first opened his new picture book, 13 Words. I'm not sure what I expected, but what I found was something not like most other picture books.
Just as the title states, thirteen words are highlighted throughout the odd little story. Yes, I called it odd, although not with the connotation that I don't care for this book. It is most definitely odd, and the story is not told in the format of a traditional story arc. It could be argued that it's less of a cohesive story and more of a series of scenes with loose connections between them. With that understanding now, I would approach reading this book aloud in a different way than a traditional picture book, because truly, the emphasis of this book is more focused on the fabulous and fun use of language.
I'm a big fan of fun words, so to be able to read a book with my kids that emphasizes words like despondent, panache and haberdashery is a unique experience. While I first wondered about the storyline, the kids didn't seem to care at all about the nontraditional format, and they giggled and pointed out the funny details in the beautiful artwork by Maira Kalman.
For a sneak peek at the book and its gorgeous artistry, check out the book trailer, and be ready to laugh:
If you're looking for a picture book that stands out in the crowd for a unique approach to telling a story, attention to some uncommon words, and beautiful painted illustrations, look no further than 13 Words.

As part of our Gift Guide Giveaway, we are thrilled to offer a copy of 13 Words accompanied by a collection of 13 buttons featuring the 13 special words and illustrations from the book, and a limited edition (only 15 made!), original Maira Kalman piece of artwork! This signed, 5 1/2″ x 7 1/2″ piece is gauche on paper — similarly sized Kalman pieces start at $750. (U.S. residents only, please).
This giveaway is now closed.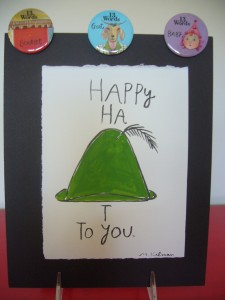 Leave a comment here to enter.
Entries will be closed on December 3, and we will announce the winners on December 4. Please watch your email and check the site for your name, so that we can collect your shipping information to pass along to the publishers.
Be sure you've entered all the giveaways in our 2010 Gift Guide and Giveaway event.

Check out our current giveaways. Subscribe to our feed. Follow us @5M4B on Twitter.
Dawn's children anxiously await the new books that greet them every Christmas morning. Their holiday tales will be shared at my thoughts exactly.