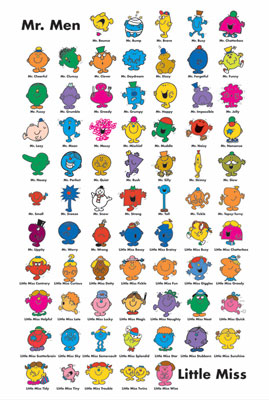 Does anyone else out there remember the Mr. Men and Little Miss series of books and characters from the (*cough*) 80's? I LOVED this series when I was a little girl. My fondest "happy meal" memories was when Hardee's put a book and a little figurine in each kid's meal. I had Mr. Bump and thought he was funny. My mom bought me the kid's meal because I had changed my baby brother's diaper – alone – for the first time. No doubt I botched the job up terribly but she rewarded me anyway for being such a big girl helper. Such are my ties to these strange little people.
I was walking in Borders a few months ago and lo and behold! What was on display but Mr. Men & Little Miss! Be still my heart. Nostalgic thoughts. Fond memories. Pure and utter joy to the point of distraction to think that I would have the privilege of introducing my very own son to Little Miss Late, Mr. Silly, Mr. Bounce and a whole host of other definitely-from-the-80's characters. Oh yes! These are just the best!
I have now had the opportunity to revisit some of my old friends like Little Miss Whoops (sister of Mr. Bump) and Mr. Cool. I still think the stories are funny, but not quite as much as I did when I was five and six. If I had to say what ages these books are ideal for, I would say that they are great for ages 3-6, primarily. Yes, the illustrations are simplistic. The colors may be a bit dull (80's, you know!) but the characters are lively enough to make up for it. Little Miss Late gets into her usual scrapes of being fired from every job because she is too late for work — except her job of taking care of Mr. Lazy who doesn't get out of bed until the afternoon anyway. Little Miss Whoops misses her train, takes a boat and accidentally travels out of country on the way to visit her brother. Mr. Silly wanders about Nonsenseland meeting pigs in trousers and chickens carrying umbrellas but these are the things which tickle the funny bone of youngsters. *I* personally (still) think they are adorable. And I am glad to have them back in my life.
Big thanks to Penguin books for reintroducing the little people to the modern world. Really, children should not miss the experience of growing up with the Mr. Men and Little Miss characters. They are timeless pieces of hilarity for the young (or young at heart).
Do any of you have fond memories of these people? Do share!
Carrie comes by her book obsession honestly, having descended from a long line of bibliophiles. She blogs about books regularly at Reading to Know.
Check out our current giveaways. Subscribe to our feed. Follow us @5M4B on Twitter or on Facebook.