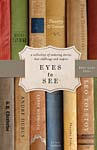 Do you find yourself with limited time to read and looking for stories to tide you over and "take care of you" (and your reading interest) until you can sit down with the next novel you've been "meaning to read, but just haven't had the chance"? If that's the case, might I suggest Eyes to See? Published by Thomas Nelson and edited by Bret Lott, this book is a collection of shorter stories from some of the most well-known authors out there. From Flannery O'Connor to Fyodor Dostoevsky, each story is moving and memorable in its own way.
As Bret Lott says on inside flap of the book jacket, "A good story can change the way we think, the way we live and love and make our way through this world. The stories gathered in Eyes to See offer fresh ways of seeing grace in the troubles and triumphs of human life." Truly, each story in this book is inspiration and leaves the reader feeling very satisfied that they spent some quality time being lost in the words of various authors. Eyes to See contains ten stories, collected and put together in this volume, by Lott. Each story takes no more than 30 minutes to read, making this book perfect for busy moms (and dads!) and love to read "deep stuff" but feel like they don't have the time to do so. This collection boasts the following stories:
The Blue Cross, by G.K. Chesterton
An Honest Thief, by Fyodor Dostoevsky
A Father's Story, by Andrew Dubus
The Final Martyrs, by Shusaku Endo
The Christmas Wife, by Helen Norris
A Good Man is Hard to Find, by Flannery O'Connor
What Men Live By, by Leo Tolstoy
The Widow's Mite, by Anthony Trollope
The Story of the Other Wise Man, by Henry Van Dyke
Silent Passengers, by Larry Woiwode
As you can see, this is not lightweight material here. However, it is easy to tackle in separate installments and does not feel overwhelming in the least. It is like the perfect "bite-sized" pieces of great big classics. This is an excellent companion for a busy life or one that just wants to relax on cold winter nights. This book would be great fun for a husband and wife to read aloud together after tucking kids into bed. These are fantastic stories to share with another person and if you took turns reading aloud, you could pass a cozy hour or so together in excellent company.
I loved cuddling up with this book during my son's nap time. Each story I read was satisfying in its own way and they delighted me individually. I'm not usually one to go for compilations but in this case, it's hard to go wrong. The authors are individually amazing that you can't help but enjoy it. Then, if you end up loving this collection of stories, Thomas Nelson offers Eyes to See, Volume Twofor additional fun. It might be worth making some coffee dates for you and one or two of these stories! You just never know.
Three cheers for winter reads, in whatever form they find you!
If you're interested in another quick read, check out Jennifer's review (and giveaway) of Brain, Child magazine over at 5 Minutes for Mom today.
Carrie comes by her book obsession honestly, having descended from a long line of bibliophiles. She blogs about books regularly at Reading to Know.