I'm coming clean. I've never seen any of the Superman movies with Christopher Reeve. Actually, I don't think I've seen any movie with Christopher Reeve. Like the rest of the world, I heard about Reeve's horseback riding accident in 1995. I paid particular attention because he was treated in the hospital at my alma mater. What a horribly sad story…Superman becomes a quadriplegic. I only saw Reeve in one television appearance, but I admired his perseverance and determination to find a cure for paralysis. He and his wife, Dana, were tirelessly committed to overcoming a tiny break in his nerve path that made such a monumental difference in his life.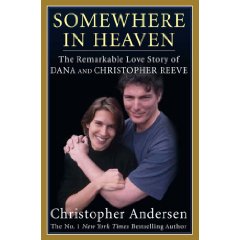 Reeve died before finding the cure. Dana died from cancer 17 months later. Their son, Will, became an orphan at 13. A fairy tale family ripped apart by tragedy.
Somewhere in Heaven: The Remarkable Love Story of Dana and Christopher Reeve author Christopher Andersen pulls back the curtain of the fairy tale and exposes the story of two people genuinely committed to each other, and a love that transcended unthinkable suffering.
By any definition, they were a golden couple – young, talented, famous, rich, impossibly beautiful, disarmingly charming, and improbably down to earth…Then it happened. In a horrifying instant, Christopher Reeve – the quintessential man of action both on and off screen – was at age forty-two rendered a wheelchair-bound quadriplegic, completely paralyzed from the shoulders down, unable even to breathe on his own. To the world, the life Chris and Dana had shared seemed irretrievably broken – shattered beyond all repair. They were wrong.
~taken from the Introduction
Based upon his relationship with Reeve, and extensive interviews with everyone from Katharine Hepburn to Reeve's best friend Robin Williams to numerous doctors and nurses, Andersen reveals that Chris and Dana Reeve were certainly more than the typical Hollywood super couple. Their young marriage was thrown into a tailspin when Reeve fell, yet they overcame the despair with grace and finesse.
Their story is not a happy ending found in the movies, but it is the stuff that life – and love- are made of.
Read it with a box of tissues nearby.
Melissa has been captivated by books for as long as she can remember. She resides in Virginia at at Breath of Life.