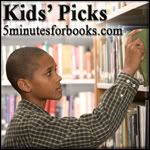 Yea! Last month I pleaded for more of you to participate in Kids' Picks, and I think that are numbers were slightly up. As I said, I hope that even if you don't participate you are reading around a bit.
This is just a chance for you to tell us what your kids are reading (or let them tell us). You could simply list the books they've enjoyed this month, or have them guest-write a review or ask them questions:
Why did you like the book? Was there anything you didn't like about the book? Would you like to read another book by the author (or have you enjoyed other books by that author)?

Now's your chance to tell us. Write your own post and put the direct link in the Mr. Linky below. If you're not a blogger, please let us know in the comments what your Kids' Picks are for the month. For ease in searching, it's helpful to include your children's ages that you are reporting on.