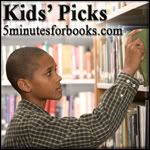 I hope that you don't think of these Tuesday posts as a "non-review" sort of post. Instead, I hope that you take the opportunity to reach into the blogosphere and see what others have to share (and that you take the opportunity to share yourself, either in the comments or as a post that you link up here).
I really love the idea of Kids' Picks — a time for us to share what our children have enjoyed or are currently reading. Something that they selected or they were surprised to enjoy that you selected for them (which happens here more often than Amanda would like to admit!). When someone asks them what they like to read, how do they answer? If a friend was looking for something to read, what would they recommend?
Share from the perspective of your child (or have your child do a guest post if they would like to). What book blew them away this month? If they are pre-readers, what book did they ask for again and again or laugh at the hardest?
Now's your chance to tell us. Write your own post and put the direct link in the Mr. Linky below. If you're not a blogger, please let us know in the comments what your Kids' Picks are for the month. For ease in searching, it's helpful to include your children's ages that you are reporting on. For example, I've signed in as "Jennifer, Snapshot (10 and 4)."
Kids' Picks Participants
Powered by… Mister Linky's Magical Widgets.