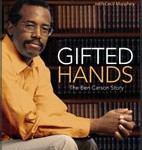 Co-authored by Cecil Murphey and published by Zondervan Publishers, Gifted Hands tells Ben Carson's story from his rise from the ghettos in Detroit to becoming a world renowned surgeon. In this story he documents his early days being raised by his single mother, to striving for personal academic excellence at Yale. He describes the challenges he faced from finances to prejudice. His story is certainly inspirational.
Ben Carson seemed to always know what he wanted in life and pushed himself to the limits to achieve it. This is a story of personal confidence in one's self and abilities. Sure, he doubted himself from time to time but when negative thought threatened to undo him, either things his mother said to him, or his faith in God's purpose for his life, spurred him onward. Raised as a Seventh Day Adventist, Carson references his faith more clearly in the later half of the book. He relates certain instances where he called on God for help and was answered in some very unique ways. I don't want to give any spoilers here in this post, but he's experienced some rather unusual things.
Carson is probably most well-known for his efforts in separating siamese twins. That's how I knew of him before reading this book. He talks about one particular experience in separating one set of siamese twins from Germany and to hear the surgical tale is fascinating (and disgusting to my non-medically inclined mind!).
Over all I thought this book was interesting. It's always rather inspiring when you hear of someone who has overcome various adversities and risen to the challenges that God placed in their life with grace and dignity. Carson has done both. He has written several books, another of which is Take the Risk, also published by Zondervan. Take the Risk is inspirational to the reader to step outside their comfort zone and, basically, dare to dream! I would heartily recommend reading Gifted Hands first, to connect and identify with the person who Ben Carson is. If you like that, you will continue to be inspired through his other books, if not his life's work.
Carrie comes by her book obsession honestly, having descended from a long line of bibliophiles. She blogs about books regularly at Reading to Know.