Amanda (age 10) enjoys the perks of having a mom who is a reviewer. Whenever I get a package or padded envelope in the mail, she asks, "Is it something I would like? Can I open it?" Most often it's not something that she would have any interest in (although she sometimes still likes to open the package).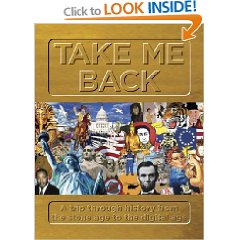 When I got this particular book in the mail, I was able to tell her, "Yeah — take a look and tell me what you think." Well, she started thumbing through the hefty 9 x 11 inch 300 page book at the kitchen table, and she didn't move for about an hour! "So you like it?" I asked her.
"Yeah, it's really cool. I love it!"
Take Me Back offers a "trip through history from the stone age to the digital age." Each page is bright and colorful and offers facts in bite-sized amounts. I think that any child — from avid reader to reluctant reader — would be able to spend time leafing through this colorful book reading and learning. If you click on the "Look Inside" link you can see some of these pages and the index as well.
From the publisher: History may repeat itself, but there is no need to make the same old history book over and over. From the creators of the award-winning, New York Times Bestsellers Pick Me Up and Do Not Open comes Take Me Back–a journey throughout history like never before! Rock out at a gory Aztec festival, read the blog of Louis XVI's closest confidant, take a pinball tour of Celtic Europe, and check out Alexander the Great's fan site. With content that's comprehensive, irreverent and witty, Take Me Back is bound to become a classic.
We have four copies of Take Me Back to give away, and one Grand Prize winner will receive Take Me Back plus seven other titles from DK Publishing (pictured below) — a $200 value.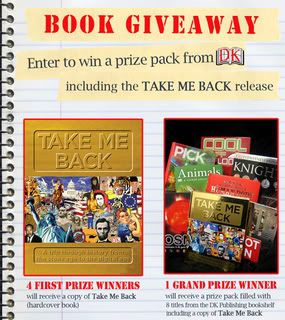 Leave a comment here if you'd like to win. We'll announce the winners on November 12.
Managing Editor Jennifer Donovan is a contributing editor at 5 Minutes for Mom. She has been blogging at Snapshot for over two years.