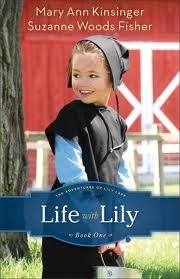 Meet Lily Lapp, a sweet and energetic little girl growing up in a small Amish community in upstate New York. Her Papa and Mama have just welcomed a new baby brother, making her a big sister for the second time, and she loves playing with her cousins and spending time with her Grandma and Grandpa who live nearby. It seems every day holds a new adventure, as Lily helps around the house and farm, goes to school, makes friends, and even occasionally gets into a bit of trouble. And, even as Lily is exploring and having fun, she is also learning from her parents' example what it means to be Amish.
Life with Lily
is the first of four books in The Adventures of Lily Lapp series from Revell. The books are written by Mary Ann Kinsinger, who grew up Old Order Amish, and Suzanne Woods Fisher, who has written both fiction and non-fiction books related to the Amish.
In many (good) ways, Life with Lily
reminded me of The Little House on the Prairie, as it gives a glimpse of a lifestyle that is foreign to most of us, through the eyes of a charming but lively young girl. There are, of course, significant differences between the stories. To name a couple, this book takes place in modern times (although Lily helps to churn butter and hand wash laundry every week, her favorite candies are Smarties and Snickers bars!), and Amish principles such as pacificism and service to others shine through in every situation.
I so thoroughly enjoyed this book that I am including it as one of our 5-Star Reads. I'm sure I will be reading it again and sharing it with as many young readers as I can. You and your young readers can learn more about Lily and her family, ask questions about the book, and even play games at the Adventures of Lily Lapp website. This delightful trailer gives a nice feel for the book as well:
I'm so excited to say that we have THREE (3) copies of Life with Lily
to give away! To enter, simply leave a comment on this post, and the winners will be announced in our October 24 giveaway column. This giveaway is open to US and Canada addresses. This giveaway is now closed.
Don't miss a thing: Check out our current giveaways. Subscribe to our feed. Follow us @5M4B on Twitter or on Facebook.