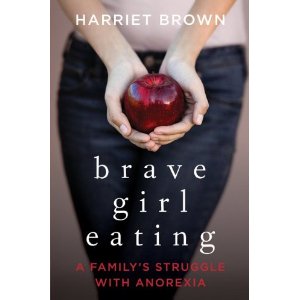 When I was a teen, I was into reading fiction about girls with anorexia, which at that time (mid-80's) was pretty new. I even thought that I might want to become a psychologist or psychiatrist due to the empathy that was borne in me from reading about the inexplicable struggle that these young girls go through.
It's been a long time since I was a teen and it seems like eating disorders are much more commonplace (in fact they only affect about 1% of teen girls–see note below**), but I still wonder if anyone reading this hasn't had a friend or a relative who has struggled through anorexia or bulimia.
And now with a tween daughter of my own, I feel certain that at some point one of her friends or she herself will struggle. Is there anything that we can do to prevent it? What do we do when we think it's a problem for a loved one? This was my mindset as I went into Brave Girl Eating: A Family's Struggle with Anorexia.
Harriet Brown is a reporter by trade, and she brings some of that fact-finding expertise and ability to explain and evoke empathy without being overly dramatic. However she writes this book as a mom.
When her daughter lost a noticeable amount of weight and became insecure and emotional, Brown worried that she had an eating disorder. When it was diagnosed as anorexia by their family doctor, she was faced with how to treat it. Many people opt for residential treatment, but Brown went with hands-on Family Based Treatment (FBT). This book details her day by day, week by week, and month by month treatment of her daughter.
Brown is not at all overly dramatic, and yet this is a heart-wrenching book. It reminds me a lot of Beautiful Boy, written by another journalist David Sheff about his son's addiction to crystal meth.
In each case, my heart went out for the parents' love and care and hard — but good — choices. And ultimately I wondered if the kid will be okay, or when the parents will be able to rest in the knowledge that their child is healed.
If this is a real issue in your life right now for you or someone you love, I'd also like to recommend another resource I reviewed a while ago — 100 Q&A about Anorexia Nervosa — that gives answers in a very short readable and meaningful way about how to tell if a loved one might have an eating disorder, how eating disorders affect you, and how to broach the subject.
**Edited after publication to refer to my reply in the comments to Amy for more about this statistic.
Also, I marked it for Teens as well because I think it would be of interest and compelling to them to read. I know that I would have lapped something like this up to supplement fictional stories, and while there is a bit of cursing, there are no other adult themes that would be inappropriate for kids of that age.
I've given this book 5 Stars, because it's honest, true, helpful, relevant and the story pulled me along and made me feel and think. We've been reading some good stuff lately. Check out the other titles that we've deemed the best of the best.
Check out our current giveaways. Subscribe to our feed or video reviews on YouTube. Follow us @5M4B on Twitter or on Facebook.
Jennifer Donovan doesn't need to read or watch horror. Real life is terrifying enough. She blogs at Snapshot, and while her life is not all bunnies and butterflies, it's satisfying boring.