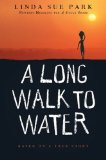 As the parent of a fifth grader, I'm well aware of the wide variety of books geared toward readers his age, from the silly to the more serious, and I can't deny that I sometimes wish he would opt for more of the meaningful fare. With Linda Sue Park's new middle grade novel A Long Walk to Water, he and I shared a most meaningful reading experience that was as captivating as it was heartbreaking.
The early 1980s brought much civil unrest to the country of Sudan, with the Muslim-dominated government situated in the northern part of the country at odds with the non-Muslim factions in the south. As war spread throughout the country, people began to flee their native areas now in devastation, resulting in millions of people on the move. In recent years, much attention has been paid to the "Lost Boys of Sudan," the young boys who were separated from their families and spent the majority of their adolescences walking across the country in search of safety in refugee camps in Ethiopia and Kenya. In A Long Walk to Water, Park dramatizes the real life story of one such "Lost Boy," Salva Dut.
Only eleven years old when the war reached his area of Sudan, Salva's story of survival is beyond amazing. Weaving just enough basic information about the Sudanese conflict into the story to give context for young readers, Park keeps the focus on the human aspect of the story. As Salva runs through the bush, readers feel the pounding of his heart. Because he was at school when the soldiers came, Salva is separated from his family, and the focus of his early travels remains on his growing fear and rising emotions. His fear is palpable, and even though he is logical and intelligent, he is still a child, making this unimaginable experience all the more difficult to comprehend.
The story follows Salva over two decades, with some segments of time written about at great length and others briefly summarized. In an interesting contrast, each chapter also includes the story of Nya, a young girl in southern Sudan in 2008, who spends hours each day traveling from her village to the nearest water source- a muddy pond two hours away. Between her two trips a day, Nya spends at least eight hours in transit, depicting another childhood spent walking.
Obvious lessons abound in these two stories, of perseverance and courage, and an even greater opportunity arises for discussion about a conflict that continues on to the present day in a part of the world that may be as unknown to our Western-born children as outer space. Regardless of cultural differences, the human experience is the same, and children from all backgrounds can relate to Salva and Nya as young people just like themselves, with hopes and dreams. Linda Sue Park does a magnificent job making this intensely terrible saga accessible to younger readers– explaining the conflict in straightforward and uncomplicated terms, while emphasizing the human side of the war in Sudan.
I highly recommend A Long Walk to Water, and I contend that this 5 Star Reads candidate makes for the perfect parent-child read, provoking discussions about a real-life topic of utmost importance.
Dawn is a huge advocate of reading aloud with children, regardless of their ages, and practices what she preaches with her own kids, even the ten year old (who was AMAZED by this book). She can be found online at my thoughts exactly.