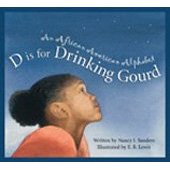 I don't often review picture books here. Dawn, Carrie and occasionally Lauren take on those books, and I think that they do a much better job. However, when we had the opportunity to review (and give away!) some books from Sleeping Bear Press, the title D Is for Drinking Gourd: An African American Alphabet really caught my eye.
I assumed that I was picking up a picture book that would share simple facts about the African American experience. I even thought I knew that the drinking gourd referred to an old-fashioned simple drinking vessel. Boy, was I wrong all around. The "drinking gourd" was actually another name for the Big Dipper, which pointed to the North star, which led the way to freedom. It was also a code word to help pass information via songs while on the Underground railroad.
Each page features a picture on a two-page spread, with a short verse about the letter's topic. Then the sidebar has several very meaty paragraphs about the event or item in question (like the drinking gourd information I shared above). I learned so much in this book about the African American experience, either in a specific time in history or throughout the ages about things from Buffalo Soldiers to Cowboys, the Great Migration to Jazz, Politicians to the Tuskegee Airmen, Universities to Writers.
Many of the books from Sleeping Bear Press (including D Is for Drinking Gourd) have a downloadable PDF teacher's guide, which includes reproducible worksheets, vocabulary sheets, a play scene and more. What an incredible resource for use at home or in the classroom.
I am so impressed with this book in particular, and I have a feeling that every single book in in every single alphabet series meets this high caliber (see Carrie's reviews on the Discover the World series and the States Alphabet series, and B is for Buckaroo: A Cowboy Alphabet). I am happy to award my first picture-book 5 Star Reads label to this book.
One of you (U.S. residents) can win this book along with Sleeping Bear Press's The Listeners (which we previously reviewed here and is linked to Dawn's review). Just leave a comment if you'd like to win. We'll announce the winner on February 17.
THIS GIVEAWAY IS CLOSED.
Check out some other past reviews of books we can also recommend for Black History Month.

J is for Jennifer who was jubilant to discover this delightful book. She jots joyfully at Snapshot.
Check out our current giveaways (we have a LOT this month). Subscribe to our feed. Follow us @5M4B on Twitter.