The creators of the States Alphabet Books have released a few new titles for your reading pleasure. These two books focus specifically on the country and culture of Japan.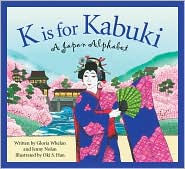 The first book is K is for Kabuki: A Japan Alphabet
and is part of Sleeping Bear Press' Discover the World series. Just like the state books, this book takes you on a tour of the country through the letters of the alphabet. Along the way you learn lots of interesting facts. The most interesting letter/fact for me was "M" which stands for Manga. Manga is the Japanese word for comics and are highly sought after for entertainment purposes by the people in Japan. Manga are apparently so popular that they make up 22% of all printed material in the country! That's pretty impressive.
There is a lot to learn from this book, including which letter of our alphabet is not found in theirs. Can you take a guess at which of the 26 letters of the alphabet does not appear in the Japanese language? Hmm, look it up and see for yourself!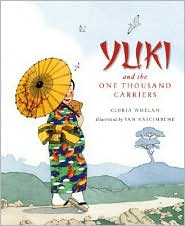 Yuki and the One Thousand Carriers
is a story about a young girl named Yuki who travels from Kyoto to Edo. From the introduction:
"In the seventeenth and eighteenth centuries the provincial governors of Japan were required by law to spend half of their time in Kyoto, the home of hte emperor and the imperial court, and half of their time in Edo (today's Tokyo), Japan's political center, ruled by the shogun. The 300-mile road between Kyoto and Edo went over mountains and along the sea."
This story talks about the journey of the young girl, Yuki, whose father is a provincial governor. One thousand men come along to help Yuki and her family move between the two cities. For lack of a better term, Yuki keeps a "diary" of the trip in the form of haikus, which she writes every day. Both the telling of the story is lyrical and moving, as is the artwork by Yan Nascimbene. The reader really does feel transported to a different point in time in reading the words and looking at the pictures. This book was very intriguing.
If you are interested in learning more about Japan and it's people and culture, you might care to start with these two books. They really stand out as being unique.
To learn more about the Discover the World series, visit the website.
Carrie comes by her book obsession honestly, having descended from a long line of bibliophiles. She blogs about books regularly at Reading to Know.