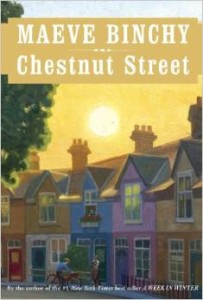 Maeve Binchy is a legend. She has written so many books that have such detailed and compelling characters. Her posthumously published book Chestnut Street is a testament to her love of characters. She created a street filled with ordinary people, and then created short stories and vignettes for them that are shared in this book, the last that will be published from her.
All the characters are connected to Chestnut Street in Dublin, Ireland. Some are thrilled with their circumstances, while others dream of so much more. There is such an intimate look into their lives and hopes and dreams, and so often in the short stories, you realize how a slightly different perspective changes so much. A husband wasn't cheating on his wife. He was planning the surprise installation of the sunroom she always wanted, and it was actually the wife who had cheated decades earlier and been forgiven by the husband – all because what their sons saw in a pub one day was completely misinterpreted.
Kevin, the taxi driver, is invisible to his customers. They never realize that the happy couple he picked up one night to bring home is remembered by him when he picks up the husband, obviously cheating on his wife. They don't recognize him as he continues transporting them as their lives drift apart and they change into different people, and he now shuttles their children across town for visits. And yet, it is his wife who is with him on just one drive who puts it all into perspective for them with a few well chosen words.
These vignettes are all so compelling with such richly drawn characters that you want to know more. As I started reading the book, I didn't discern any rhyme or reason why one story was placed ahead of another, but by the end of the book, I could see how they wre placed where they were for a good reason, as some of the recurring characters – Kevin amongst them – became so much more, subtly so, because you had met them earlier.
Chestnut Street itself is just over 350 pages, with 36 different stories within it. They are all fairly short, with some being just three pages long. Each creates memorable characters, no matter the length. As all are unconnected stories, it's easy to pick up and put down the book when you only have quick snippets of time.
I'd forgotten how well Maeve Binchy creates worlds filled with characters I want to know more. Chestnut Street has reminded me of this, and it's time for me to go revisit some of my other favorites that she's written and savor them once again.
Written by 5 Minutes for Books contributor Michelle who loves the idea of living in an interconnected neighborhood where people look out for each other. She does her best to do her part – and share her perspective – on her blog Honest & Truly!, and you can also follow along with her on Twitter where she is @HonestAndTruly.