At 5 Minutes for Books, we are proud to feature books across many genres for children and adults. This week is all about highlighting children's books, but if you're also interested in fiction for your middle-grade reader, we have some great reviews in that category as well.
Read the anchor post to find all of the Fall Festival of Children's Books reviews and see how you can get involved and win the Grand Prize.
******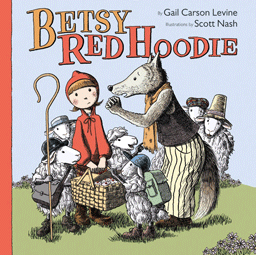 From the moment I opened the padded envelope and took out Betsy Red Hoodie, I was interested. Although it's one of the most recent books I have received, I knew I wanted to include it in this week featuring picture books.
What interested me? Well, first the author's name — Gail Carson Levine. But of equal importance is the lovely artwork by Scott Nash.
Look at those sheep — they are adorable, right? And they become more delightful when I opened the book and saw that they were having a conversation (with cartoon dialogue bubbles) right there on the endpaper (want to know how I know that word? Check out my related post on Snapshot). This drew my 6-year-old son right into the book as well. In fact, these sheep share their thoughts in their speech bubbles throughout the book. My son loves books that use this device (I guess it's a device. I mean books that have a lot of things going on beyond straight text). It's the kind of book that he will sit and read and examine and dare-I-say-it enjoy independently.
Betsy is finally old enough to take the cupcakes to Grandma's house by herself (another reason to love it, a mom raising Free Range Kids!). She sets off, taking her sheep with her so that they can get some exercise (Permit me one more word about these sheep — they are outfitted in hiking books and backpacks — so cute). Zimmo, the other shepherd who happens to be a wolf, begs to go, but Betsy hesitates.
"You have to stay home," Betsy said, "Wolves aren't good for grandmas." Long ago a wolf had eaten a grandma.

–page 4
He begs, and she relents, remembering that Zimmo had never hurt a person or a sheep, so they set off. Betsy (outfitted in her red hoodie sweatshirt) and the sheep have a few obstacles to overcome: a hunter who wants to shoot Zimmo, Zimmo taking off and leaving them behind, a lost lamb, and a mudslide. But they persist, and when Betsy finally makes it to Grandma's house, she finds it's worth waiting for.
The sheep's comments on the last few pages and the endpaper on the back cover sealed my love for this book. It's a cute story inspired by, yet completely different from, Little Red Riding Hood.
For the beautiful artwork, the clever story with a good message of perseverance and independence, the humor and of course the sheep, I am adding this book to our 5 Star Reads page.

Jennifer Donovan doesn't usually have a one-track mind, but seriously, she is loving those sheep. She has never once blogged about sheep at her blog Snapshot.