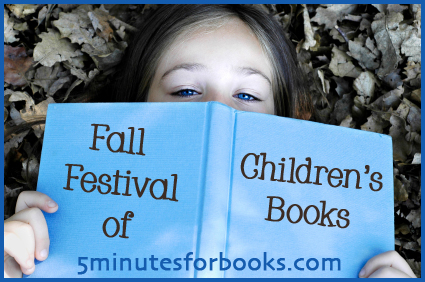 Here at 5 Minutes for Books we love letting you our readers know about interesting books that publishers and authors and PR firms send our way. We like to offer reviews across many genres for all ages. In any given week you're likely to see us review novels, a memoir, and then maybe some other interesting non-fiction selection for adults. Each week we feature a few reviews for children's books as well, be they Young Adult novels, chapter books, picture books, fiction or non-fiction.
We noticed that we had a higher than average percentage of great children's picture books waiting to be reviewed, so we decided to have a festival!
For the next 10 days, we are going to be having a Fall Festival of Children's Books, which means instead of offering variety we are going to review Children's Books. LOTS and lots of children's books! We are going to be reviewing funny books, sweet books, religious books, beautifully-illustrated books. We'll feature fiction, non-fiction, and poetry. And we will have giveaways! Lots of giveaways.
Just look at the information on each post to see if it is a giveaway or not, and what the terms are.
In addition to the individual giveaways, we are going to give away a grand prize. The grand prize will feature most of the books that had giveaways offered on our Fall Festival of Books.

To be eligible for this grand prize giveaway, here's what you can do:
Review a children's picture book on your site this week (by September 27), and mention the Fall Festival of Children's Books (and giveaways). Just write your review and link to this post. Then link up your review AND leave a comment on this post. You can write one post each day if you'd like. Give the name of the book that you reviewed in your link-up.
Tell your friends and followers about the Fall Festival of Children's Books (and giveaways!) on your Facebook page or Twitter (linking to this page). Leave a comment here, with the link if possible. You can do this once a day. Leave a comment each time.
Leave a comment on any of the reviews that are part of the Fall Festival of Children's Books that DO NOT have a giveaway attached to it. You do not need to leave a comment here saying you left a comment, but those comments left will count as a grand prize entry as well.
Check out all the reviews for the Fall Festival of Children's Books, including the ones left in the linky below:
*Giveaway
**Giveaway is also included in the GRAND PRIZE giveaway
Feel free to grab our cute button or banner to display in your sidebar or use in your posts.
The grand prize giveaway is open to U.S. and Canadian residents. The winner will receive one of each book marked ** above.
All giveaways will be announced on Saturday October 2.
Check out our current giveaways. Subscribe to our feed. Follow us @5M4B on Twitter.
Now it's your turn to link up children's book reviews that you've posted this week (that also link back to this post):

Link Up Participants
Powered by… Mister Linky's Magical Widgets.