At 5 Minutes for Books, we are proud to feature books across many genres for children and adults. This week is all about highlighting children's books, but if you're more a novel reader, why don't you check out some of the most recent Fiction reviews?
Read the anchor post to find all of the Fall Festival of Children's Books reviews and see how you can get involved as well.
********
It's DK time again! If you haven't had the pleasure of perusing one of DK's many, many nonfiction books, you're definitely missing out on a fact- and fun-filled experience. Two of their latest releases, geared for ages ten and up, stand out for their varied, and certainly memorable, subject matters!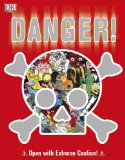 If the shiny silver title and skull and crossbones on the cover of Danger! aren't enough of a warning, the message Open with Extreme Caution should surely be heeded. Trust me, I spent an hour one evening reading through these pages, and I learned things I never expected to know. As a thirty-something year old mom, I can say that it might have been better if I had NOT read the chapter entitled "Nature's Nasties," but hopefully I won't become a complete germaphobe as a result. However, my ten year old son is gaga over this book, being a ten year old boy and all. Danger definitely abounds here, whether its in the stories of ruthless leaders from long ago or the freaky pictures of creatures from the deep. Like many other DK titles, the topics covered here are incredibly vast, but the interweaving theme holds it all together.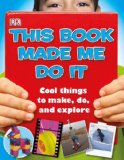 With a title like This Book Made Me Do It, one might expect another danger-filled tome, but the subtitle Cool things to make, do, and explore clears up that misconception immediately. Quite succinctly, this is a book of unique tricks and projects as widely varied as the many interests of different children. I seriously believe there's something for everyone here. Musical, artistic and cooking endeavors are addressed, as well as sports and outdoor exploration interests, too. While some projects are as easy and safe as paper airplane building, some others are highlighted with symbols advising extra care, adult cooperation or specific safety advice. I hope to see this book soon covered in sticky note bookmarks at the hands of my son!
In conjunction with our Fall Festival of Children's Books, we're happy to offer a giveaway of both Danger! and This Book Made Me Do It. Leave a comment here to be entered, U.S. mailing addresses only, please. The winner will be announced on October 2.
THIS GIVEAWAY IS NOW CLOSED. THANKS TO ALL WHO ENTERED.
Check out our current giveaways, subscribe to our feed, and/or follow us @5M4B on Twitter.
Dawn loves when her children are inspired in real-life by the pages of a book. Any related stories to her son's future adventures resulting from reading these books will be shared on her blog, my thoughts exactly.