At 5 Minutes for Books, we are proud to feature books across many genres for children and adults. This week is all about highlighting children's books, but if you're more in the mood for some reflective essays right now, please visit our On Reading column.
Read the anchor post to find all of the Fall Festival of Children's Books reviews and see how you can get involved as well.
********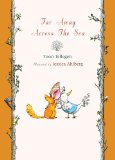 "What a different little book."
Those were the words that escaped my lips every night after reading a few short stories from Toon Tellegen's collection entitled, Far Away Across the Sea, newly published in the United States. Now lest you think that I mean these words in a negative tone, let me reassure you that in this case, different is quite lovely. Yes, lovely is a good word to describe the six to eight page tales, or even dreamy, or best yet, enchanting.
If you are woefully uninformed about the author Tellegen, as I was, let me share this information from the press release: "Toon Tellegen is one of Holland's most celebrated writers for both children and adults. He started his literary career as a poet and began writing for children in the mid-1980s. A doctor for many years, he now writes full-time from his home in Amsterdam." The fact that he began by writing poetry is clearly understandable when you read his elegant writing style, peppered with sophisticated and beautiful words, which are too often lacking in writing aimed at children.
As I read these stories aloud, I felt there was something decidedly European about the style of the writing, although I'm having difficulty clearly articulating what that means in relation to the tone… perhaps it makes sense that I was sometimes reminded of the tone of Milne's Winnie-the-Pooh stories in the dialogue and narrative. In content, the stories feature a diverse cast of wildlife, some familiar and some less-known, including Squirrel, Pike, Mussel, Ant, Elephant, and Spoonbill, among several others. Fantastic adventures abound- ones that defy easy explanation, but encourage creative thinking and delightful wondering.
Finely detailed small illustrations by Jessica Ahlberg are featured among the pages, with distinctive lines and muted colors, and perfectly capture the feeling of the text. The book itself is almost dainty at approximately 7″ by 5″, and even this format itself seems to lend itself to a particular specialness. The suggested age level for this dear little book varies according to the source, with the publisher recommending five and up, but I found that my newly turned four year old daughter was absolutely delighted with it, and my almost ten year old son snuck in for several readings, as well. My gut tells me that Far Away Across the Sea is the type of book that is so much better when read aloud, and I'm thrilled to have been able to share it with my own children.
In conjunction with our Fall Festival of Children's Books, we're happy to offer a giveaway of Far Away Across the Sea. Leave a comment here to be entered, U.S. and Canada mailing addresses only, please. Another copy will be included in our Grand Prize package as well! Winners will be announced on October 2.
THIS GIVEAWAY IS NOW CLOSED. THANKS TO ALL WHO ENTERED.
Check out our current giveaways, subscribe to our feed, and/or follow us @5M4B on Twitter.
Dawn delights in sharing the love of the written word with her children, as well as sharing her own words with the world via her blog, my thoughts exactly.