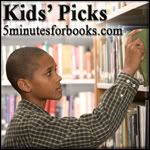 This week we are throwing a Fall Festival of Children's Books. Be sure that you check out all our reviews, and find out how you can get involved (Your Kids' Picks post could serve double duty, if they are children's picture books, so find out how you could use it as an entry to win our Grand Prize).
The beauty for me of reading and loving books is sharing them. That's why this is probably my favorite Tuesday carnival event — the one in which we invite you to share about the books that your children have loved reading of late. They might not be Award Winners, they might not be fine literature, but if kids love them and read them, then they are wonderful books!
So, link up below, if you have some recommendations to share. Tell us the age of the child who is doing the picking when you link up. Make sure the permalink goes directly to the post, not the front page of your blog.
Check out our current giveaways. Subscribe to our feed. Follow us @5M4B on Twitter.
Kids' Picks Participants
Powered by… Mister Linky's Magical Widgets.