At 5 Minutes for Books, we are proud to feature books across many genres for children and adults. This week is all about highlighting children's books, but if you are more interested in reading about film adaptations of books, please check our our Books on Screen archives.
Read the anchor post to find all of the Fall Festival of Children's Books reviews and see how you can get involved as well.
********
At your local library, you can find shelves of 'concept books,' intended to introduce ideas such as numbers, shapes, and the alphabet. For a unique twist on this familiar format, two new books are just the thing.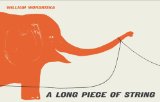 Children's literature has gone through many changes in dominant styles and formatting over the last forty years, but some books have an appeal that is timeless. With the re-release of William Wondriska's A Long Piece of String, originally published in 1963, I've been introduced to a book that I wish had been a part of my own childhood!
Wordless books can often induce groans in some parents who are simply unsure of how to keep the book going without the author's words piloting the way. I do believe, though, that it's quite easy to find the beauty in wordless books when you invite your listening audience of children to help you tell it. William Wondriska's A Long Piece of String invites children to participate because it's basically a wordless alphabet book, with one or two illustrations on each two page spread depicting each letter. With a very simple concept, you may be chalking this up to just another alphabet book among many, but there's a quality to this one that just feels different for me. Perhaps it's the sparse color palette, with only shades of white, black and orange in the print-like illustrations. Much of each page is unfilled space, making the individual pictures pop off the page. Something about these illustrations evokes a reminiscence of an artistic style of days gone by, and its simplicity is greatly appealing.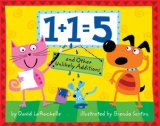 Moving from letters to numbers, and definitely into a very different illustrative style brings us to David LaRochelle's 1+1=5 and Other Unlikely Additions. The title may be confusing you, but as the book and its brightly colored pictures show, this math problem can be quite true… well, if you add in a few details. You see, 1 set of triplets + 1 set of twins = 5 babies!
For children who already have a solid understanding of number values, this book provides a whole lot of fun by playing with simple addition. Even my younger children have fun counting the sets of items on each page, especially when the reader is called upon to add one unicorn's horn to one goat's two horns! (Unicorns are apparently huge with the four year old girl crew!) I imagine this book would be perfect for a kindergarten classroom and could easily be paired with counting materials to represent the number problems depicted.
I'm happy to add both A Long Piece of String and 1+1=5 and Other Unlikely Additions to my list of baby shower and kid birthday gift giving lists!
Check out our current giveaways, subscribe to our feed, and/or follow us @5M4B on Twitter.
Dawn's love of reading goes way back to her early days eating stolen pieces of newspaper in her playpen. Now she only eats real food products and blogs at my thoughts exactly.