At 5 Minutes for Books, we are proud to feature books across many genres for children and adults. This week is all about highlighting children's books, but if you're more interested in reading about movie adaptations of books, please check out our Books on Screen feature.
Read the anchor post to find all of the Fall Festival of Children's Books reviews and see how you can get involved as well.
********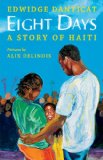 Some picture books are meant to entertain, and others to inform in a very straightforward way. A select few take on a loftier goal of encouraging children to think about 'big issues,' which can be the trickiest of goals to achieve. Edwidge Danticat's new picture book Eight Days: A Story of Haiti meets this goal handily, creating a work of beauty that honors the people of Haiti when facing the life-changing earthquake earlier this year.
Told in the voice of Junior, a seven-year-old boy who is trapped in the rubble of his house after the earthquake, Eight Days: A Story of Haiti depicts the life that the boy loves, and his memories and thoughts of Haiti help him survive the unbelievable. From flying kites and playing marbles with his friends, to singing in the Sainte Trinite's children's choir, to frolicking in the countryside during a warm summer rain, Junior's memories, illustrated with bright, vibrant paintings by Alix Delinois, show the beauty of Haiti remembered.
Both Danitcat and Delinois were born in Haiti, and their love of their homeland comes through in every word and brushstroke. Danticat's note at the end of the book eloquently describes her own experience in Miami when she heard about the earthquake and her motivation for writing this book. Geared at children aged four to eight, this book focuses on the happy memories and hope for recovery, although it does include one tragic moment that brought both my husband and I to tears when we looked at the book together before sharing it with our children.
Danticat and Delinois share the beauty of a land that many only know from the news reports post-earthquake. The beauty and charm of the Haiti as they have known it before the earthquake make for an amazing tribute in Eight Days: A Story of Haiti.
Family, friends, books and blogging– the simplest way to sum up Dawn's life. Details can be found at my thoughts exactly.
Check out our current giveaways, subscribe to our feed, and/or follow us @5M4B on Twitter.