At 5 Minutes for Books, we are proud to feature books across many genres for children and adults. This week is all about highlighting children's books, but if your own kids are a little older now, please take some time to look through our Teens review archives.
Read the anchor post to find all of the Fall Festival of Children's Books reviews and see how you can get involved as well.
********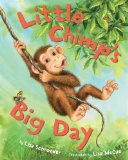 As parents, we watch as our little ones get older, and when the time comes, we gradually grant them more freedom to explore the world independently. Well, it can't be too much different in the animal kingdom, and as depicted in Lisa Schroeder's Little Chimp's Big Day, it's adorable and sweet.
When Mother leaves Little Chimp for a moment in the tree, he suddenly finds the branch cracking, and soon he safely plops down in the mud. He begins to explore the jungle around him, making friends with various animals and discovering delicious foods to eat. Little does he know, Mother is never very far away, keeping a watchful eye on her beloved young one, but allowing him a chance to seek, and lurch, and peek and perch (among many other fantastic rhyming verbs).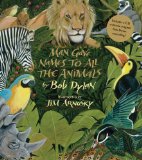 Animal loving children will also be sure to be ecstatic for the absolutely beautiful Man Gave Names to All the Animals, a new picture book based on the Bob Dylan song of the same name, and illustrated by the talented Jim Arnosky. I wasn't familiar with the song, personally, so the accompanying CD was helpful for us to learn the tune. Truly, Arnosky's realistic and super detailed paintings make this book a delight to look at. After listening to the song and moving at a quicker pace through the pages, one should really go back and take time to fully appreciate the numerous animal illustrations, perhaps even to try matching up pictures with the alphabetic list of animals at the end of the book!
If you have animal lovers in your life, or perhaps are looking for a book to give as a gift to a future zoologist on his birthday, you can find two winning options in Little Chimp's Big Day and Man Gave Names to All the Animals.
Check out our current giveaways, subscribe to our feed, and/or follow us @5M4B on Twitter.
Dawn's own children both love, AND act like, wild animals, and their adventures are often chronicled on her blog, my thoughts exactly.