At 5 Minutes for Books, we are proud to feature books across many genres for children and adults. This week is all about highlighting children's books, but if you're actually interested in novels right now, please review our Fiction archives.
Read the anchor post to find all of the Fall Festival of Children's Books reviews and see how you can get involved as well.
********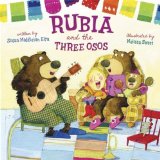 We all know the story of the self-centered golden haired little girl who traipses into the home of woodland family, only to show no regard for their belongings and eventually be frightened away upon their return. Well, thanks to the dual language story of Rubia and the Three Osos by Susan Middleton Elya, you and the little ones you love can revisit the tale, with the added bonus of an unfamiliar, but quite lovely, twist in the story.
Rythmically told in rhyming verse, Rubia and the Three Osos makes for a fantastic read aloud, and simultaneously introduces some simple Spanish vocabulary. (Starting with the title, in which Rubia means Goldie, or a blond, and Osos which are bears. Muy bien.) The story moves along in the familiar manner, with Rubia sampling some tasty eats (although the porridge here has been replaced by bowls of la sopa), breaking a chair, and finally snuggling down into baby bear's bed. Indeed, the Oso family returns, unhappily discovers the effects of Rubia's visit, and scares her away.
But the story doesn't end there.
Now, I could tell you all about the delightful twist at the end of this colorfully illustrated picture book, but I believe you would be better served by being allowed to read it on your own. Suffice it to say, my kids enjoyed the fun brought by a read aloud session of Rubia and the Three Osos, and mama appreciated the amended ending to a well-known tale.
Picture books are one of Dawn's favorite obsessions. Blogging ranks up there too, and you can find the fruits of her efforts at my thoughts exactly.