Guest contributor bio:
Jennifer Fosberry, a mother of three, was moved to create My Name is Not Isabella when she thought about the kind of women that she admired and the kind of women she thought her daughter could be.
A few years ago I decided to make a huge leap of faith. I didn't do it without doing some research. A LOT of research. I didn't do it without some deep thought. And I didn't do it without the support of my friends and family.
What did I do?
I "self-published" a children's picture book.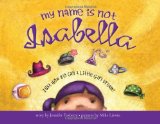 I tried to do it the smartest way I could, knowing that I would make some mistakes out of the gate. But I had a product I believed in (My Name Is Not Isabella), a big enough chunk of money set aside to get it done right, time available (we had child care wrapped up with a pretty string while we lived abroad in Costa Rica). One might say, I had "a dollar and a dream." I also had a business plan and a marketing plan and a budget.
What happened?
I managed to publish a beautiful book. I managed to get it into some stores. I walked, talked, and sold that book. And I did marginally well……(wait for it)….for a "self-published" book. It was an uphill battle to get it into stores and I completely understand that. The term "self-published" seems to be synonymous with "not so good." A lot of self-published books suffer from one of three main maladies:
1) Not good = not salable.
2) Overpriced = not salable.
3) No distribution/availability = not salable.
Even if you make it past all those hurdles, there is the chance, really the likelihood, that no one will ever hear of your book. I did my best to get the word out and was lucky enough to get some good attention in review publications and blogs, including Lauren's great review at 5 minutes for Books. And that certainly helped me to sell a respectable number of copies. But my big break came when I sent the Book to the Children's Book Festival in Bologna, Italy. So "the book" went to Italy. Luckily, I had already had a chance to go for work a few years earlier, or else I would have been really jealous. Dominique Raccah, publisher at Sourcebooks (a company she started….) saw it, liked it, and got in touch with me. I was hesitant at first to sell the book. I had dreams of starting my own little publishing company. Frankly, the time had evaporated since we returned from Costa Rica, and I was feeling more artistic leanings. Dom slowly thought me through the whole thing and Viola! Contract with Sourcebooks.
So what happens after the prince slips on the glass slipper? Well, for this author it has been a quick paced ride through legitimacy. The biggest difference is that people (bookstores, schools, etc.) are happy to see me. They like my book and they like me. I feel that I learned an awful lot with this process, but am so glad with the choice I made to go with Sourcebooks. They have been kind and gentle publishers, with an aggressive marketing department. Just what "Isabella" needed.
Sourcebooks has donated one copy of I Am Not Isabella (linked to Lauren's 5-Star review) to give away here, and one that will go to our Grand Prize winner.
If you'd like to win, leave a comment. We'd also love it if you'd "like" My Name is Not Isabella on Facebook and Follow @jenfos on Twitter. We'll announce the winner on October 2. This giveaway is closed.
Check out our current giveaways, subscribe to our feed, and/or follow us @5M4B on Twitter.
Yes, even our On Reading column has been taken over by the Fall Festival of Children's Books. Read the anchor post to find all of the reviews and see how you can link up and enter to win the Grand Prize.