At 5 Minutes for Books, we are proud to feature books across many genres for children and adults. This week is all about highlighting children's books, but we've also reviewed quite a few nonfiction books in the Health category that you might want to check out.
Read the anchor post to find all of the Fall Festival of Children's Books reviews and see how you can link up and enter to win the Grand Prize.
********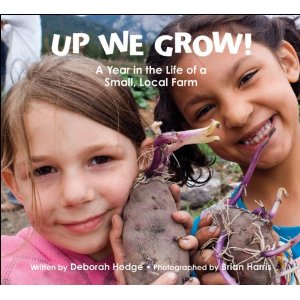 Up We Grow!: A Year in the Life of a Small, Local Farm may be my favorite children's nonfiction picture book, certainly that's been published this year. Honestly, the title and cover did not beg me to look into this book, but by the first page, I was hooked (and even better — so was my 6-year-old son).
The book is divided into four sections and opens with Spring telling us "the signs of new life everywhere!" The full page photo on the right is a beautiful picture of a robin on some sort of old red farm machinery — artistic and captivating and beautiful. Under the text on the left there is a picture of a sweet baby goat with her mama (and yes, that's some good photography if I'm calling a goat cute).
When my son and I looked at this together, we were only going to read one section, but we couldn't stop without finishing, so we found out about life on the farm in spring, summer, fall and winter.
We learn not only about what it takes to grow crops, but also about the people who have to work the farm.
I loved this book. Deborah Hodge's informative yet interactive text and Brian Harris spectacular photos are beyond compare. I'm giving it 5 Stars.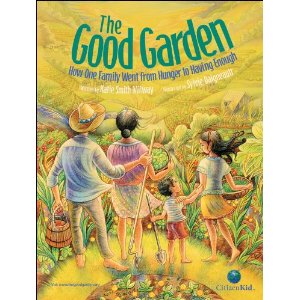 The Good Garden: How One Family Went from Hunger to Having Enough has a totally different feel and targets an older reader.
It reads more like a story than a nonfiction book, though it is based on the true story of a family in Honduras whose farm did not yield enough to support their family. When they were taught sustainable gardening, their crops and those of others in the town began to meet their needs.
The title is a part of the "Citizen Kid" books published by Kids Can Press, which is "a collection of books that inform children about the world and inspire them to be better global citizens. The collection aims to make complex global issues accessible for children ages 8 to 12."
The Good Garden by Katie Smith Milway definitely does this.

Thanks to Kids Can Press, we have a copy of each of these books to give to one of you (and another set for the Grand Prize winner), U.S. and Canadian residents are eligible. Leave a comment to enter, and we'll draw a winner on October 2.
Check out our current giveaways, subscribe to our feed, and/or follow us @5M4B on Twitter.