At 5 Minutes for Books, we are proud to feature books across many genres for children and adults. This week is all about highlighting children's books, but if you're not feeling juvenile, look at our Literary Fiction reviews.
Read the anchor post to find all of the Fall Festival of Children's Books reviews and see how you can link up and enter to win the Grand Prize.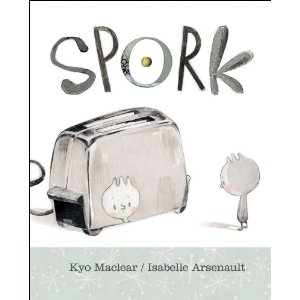 On the outside, these books don't seem to have much in common. They are different sizes and have different artwork and are aimed at slightly different age levels (I think that The Way of the Ninja is aimed at a bit younger crowd). The stories are different too, but there's a common theme: they both are trying to figure out how to fit in.
Oh what do you do when you are an odd piece of cutlery? You don't match up like the other silverware, and you are rarely used. Well, one thing Spork tries is to fit in in different ways, but trying to be more spoon-ish or more fork-y. But it doesn't work.
To my surprise, when I received a box full of new titles from Kids Can Press, this was the first book that Kyle went for and read. I have no idea why. The artwork by Isabelle Arsenault is simple and is not bold (though it's quite creative and interesting to look at, I wouldn't have thought it would have jumped out to a 6-year-old boy). Perhaps the draw is his fond association with Taco Bell, where the spork is in heavy rotation. At any rate, this is a book that we've enjoyed more than once.
Edited: Dawn left a comment below with a video from the author about how the book came to be — from her own experience as a mixed-race child. It's a cute little video. Take 2 minutes and watch it.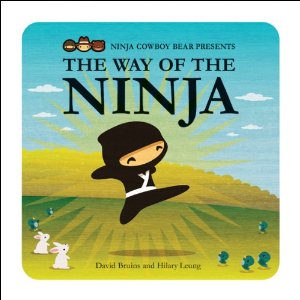 I don't even really know what a Ninja exactly is. Some sort of karate-ish person. Is he good? Is he bad? I don't know, but apparently the ninja is a popular fixture in children's lives. You see them at Halloween, and there's even a kids' song about the ninjas.
But this Ninja is none of those things. This Ninja is simply a boy who wants to play with his friends Cowboy and Bear. But sometimes they want to do different thing. Ninja tries to school them in the way of ninja-play, but then no one ends up happy. Ninja tries to go it alone, but he soon realizes that it's no fun playing alone, and returns to his friends.
The drawings by Hilary Leung are bright and evocative and add to the simple text by David Bruins. I'm sure that most young children will find they can relate to that all-too-common situation of wanting to play different things or in different ways.
Kids Can Press has offered Spork and Ninja Cowboy Bear Presents the Way of the Ninja books to two readers (one here, and one to the Grand Prize winner). U.S. and Canadian shipping addresses are both eligible. Leave a comment to enter.This Giveaway is Closed.
We will announce the winners along with all of our other Fall Festival of Children's Books winners on October 2.
Check out our current giveaways, subscribe to our feed, and/or follow us @5M4B on Twitter.

Though it frustrates Jennifer Donovan that her children is guilty of judging a book by its cover, she is just as guilty. She blogs at Snapshot.