At 5 Minutes for Books, we are proud to feature books across many genres for children and adults. This week is all about highlighting children's books, but if you are a fan of Historical Fiction as I am, peruse some of the reviews in the archives.
Stay tuned to find out how you can get involved, and keep watch for giveaways galore!
********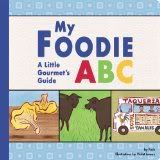 Since this week is all about children's books, I would like to showcase a couple of ABC books. The first is My Foodie ABC: A Little Gourmet's Guide
.
I'll be honest. A year ago, this book wouldn't have interested me at all. In the last six months, however, my interest in good food has increased greatly (I've always been interested in food, but my culinary expertise centered around Betty Crocker and Duncan Hines). This sturdy board book, written by gourmet chef Puck, is a fun way to explore the alphabet and introduce new foods to children (and perhaps mom and dad as well). Do you know what alfajores or nopales are? Do your kids eat udon? While the book includes some familiar foodie terms like farmer's market and ice cream, my daughter and I had a fun time exploring new foods with this book, and we have some new items we want to try. If you enjoy sharing books and food with your kids, be sure to check out My Foodie ABC: A Little Gourmet's Guide
.
My Alphabet Playbook
, by pop-artist Romero Britto, is another enjoyable ABC book. Not only is this book filled with bold illustrations and fun concepts that will capture the eyes of young children, it is a book and a work of art combined. Each letter can be removed from the book, and children can use the letters to create sculptures. When I received this book, my four-year-old nephew was visiting. He loved the book so much, I had to let him take it home! He spent hours playing with the letters, organizing them, putting the back in the book, taking them out, etc… The letters are sturdy, but I would recommend some adult supervision with very young children (the letters are cardboard). If you have children who appreciate tactile experiences, My Alphabet Playbook
is the perfect selection.
Check out our current giveaways, subscribe to our feed, and/or follow us @5M4B on Twitter.
Lauren is a wife, mother of two, and an avid reader who thinks you're never too old for a good ABC book. She thanks Simon and Schuster and Duopress Books for providing the review copies of these books. Lauren blogs at Baseballs and Bows.