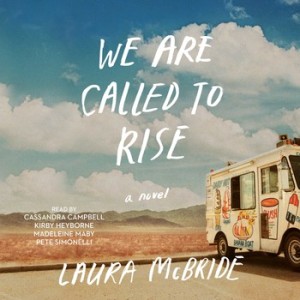 I loved We are Called to Rise!
It is great contemporary fiction looking at so many issues:
The affects of the Iraq war on a soldier
Parenting adult children
Transitions in marriage
Middle age ennui
Social work, helping kids in particular
The challenges of an immigrant family living in Las Vegas
The setting of Las Vegas gave this novel an interesting twist. Sin City wasn't a vehicle to showcase the dark underbelly, but rather just a regular town where people raised their families during a time of explosive growth. Granted, those kids who grew up there learned early on to avert their eyes from the naked ladies on the billboards (it's only the newcomers who notice).
I listened on audiobook and it was good, making what would be a very good book anyway even better. There are 4 different readers, each representing the chapters from the POV of middle-aged Avis, 8-year-old Bashkim, returned Iraqi vet Luis, and social worker Roberta. The way the stories of so many are intertwined keeps the story moving along.
Laura McBride is a wonderful new voice in fiction, and I can't wait to see what she writes next.
I'm including the publisher's description because I think it fits well:
Far from the neon lights of the Vegas strip, three lives are about to collide. A middle aged woman attempting to revive her marriage. A returning soldier waking up in a hospital with no memory of how he got there. A very brave eight-year-old immigrant boy.
This is a story about families—the ones we have and the ones we make. It's a story about America today, where so many cultures and points of view collide and coexist. We Are Called to Rise challenges us to think about our responsibilities to each other and reminds us that no matter how cruel life can be in a given moment, it is ultimately beautiful to live, and live fully. –
See more and here an excerpt at the Simon and Schuster Audio page.