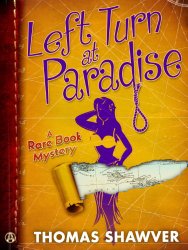 Michael Bevan, proprietor of Riverrun Bookshop selling rare and antique books in a leafy suburb of Kansas City, finds himself just scraping by, as he faces the stiff competition from internet sellers that has closed down many physical bookshops. He decides to visit the California International Book Fair, both for inspiration and to hopefully add to his inventory. But, unsurprisingly, he's in for more than he bargained for. While searching for a briefcase to carry his books in, he unearths an old box and finds within an old diary, its salt-stained pages written by a sailor in 1768 on the first of Captain Cook's three infamous South Sea voyages.
He realizes immediately that this is going to bring in a much-needed infusion of cash, but he's unprepared for the adventures that follow once he starts showing the diary round the fair. He meets Adrian Hart and Penelope Wilkes, a pair of London book dealers who have the same sailor's diary of the second voyage. And they claim there's a third one out there, one that chronicles the end of Cook's life at the hands of the Hawaiians who earlier worshipped him as a god, and that might show the great captain's descent into madness. If all 3 diaries are shown to exist, they would offer an incredible insight into history, and would be worth millions.
Hart and Wilkes persuade Bevan that the truth lies in New Zealand, where Wilkes is from. (Cranky aside: she goes by the unlikely moniker of Pillow. I have to admit I found that unbelievable. What woman would want to be called Pillow? Certainly not one of Pillow's type) Although they are theoretically partners, Bevan is not at all sure that they're not trying to kill him–especially when an acquaintance from the book fair is found washed up on a San Francisco beach, and he's "randomly" attacked twice before they even leave the city. The trio end up in a Maori camp in an extremely remote valley, located a 3-day hike from anywhere a helicopter can land. This earthly paradise in New Zealand's gorgeous mountains contains more than a few hidden dangers, including a very prosaic and modern threat in addition to apparent magic and witchcraft.
This is the second Rare Book Mystery (read my review of the first one here) and while author Thomas Shawver is still cruder than I might like, I enjoyed this book much better than the first. Lurching from strange adventure to strange adventure, Bevan must keep his wits about him if he to survive what the publisher calls the "surprisingly lethal world of rare books." Left Turn at Paradise
is a wild ride, but a very enjoyable one, and one that even reimagines history a little bit.