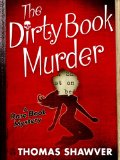 Michael Bevan is a former lawyer (now disbarred) and ex-Marine turned bookshop owner, living in Kansas City and trying to reconcile with his semi-estranged daughter Anne, who blames him for her mother's death when she was 5. He pays her college fees and she yells at him on the phone occasionally and makes the sorts of decisions that scare a father to death. Now she's in town on the arm of Bob Langston, the disreputable ex-director trying to make a comeback. In spite of his concerns, Bevan is determined to reconcile.
Things really get going when he attends an auction which mentions rare Japanese erotica. Assuming no one else will appreciate their value, he expects an easy addition to his bookstore. But on his arrival, he's met first by Gareth Hughes, an unsavory Welshman who manages to be both friend and foe and who is a rival book-dealer. The two are joined by Richard Chezik, another dealer whom Bevan suspects of stealing books from his shop. When the bidding starts, Hughes and Bevan are quickly outbid by a mysterious South African man. Hughes pockets one of the rare finds–a Colette with an inscription to Sylvia Beach from Ernest Hemingway in it. That evening, he and Bevan publicly come to blows in an Irish pub, although they make up quietly afterwards outside. The following day, Hughes' body is dragged from the river. He's been beaten as well, with a hurling stick  that Bevan keeps at his shop. To make matters worse, the detective in charge is an old foe of Bevan's from his time as a defense lawyer. Things are looking bad, but they're about to get…a lot more strange.
The Dirty Book Murder: A Rare Book Mystery
is written from Bevan's point of view, and he's a good narrator. He's got a wry sense of humour and is well-read (as he should be) and well educated. The plot itself quickly devolves into twists and turns, with some friends being less than trustworthy and some foes turning out to be on the side of the angels. As for the characters, well, let me just say that apparently Kansas City has more than its fair share of quirky people. As more things come to light, the plot gets darker and, well, kinkier. I thought the title referred just to the initial books for sale, but it included so much more. Anne ends up unintentionally right in the middle of all that's going on.
I have very mixed feelings about The Dirty Book Murder
. On the one hand, it's well written, with wit and intelligence and characters that are fully-fleshed out and who reveal new depths to themselves before your very eyes. On the other hand, I was very uncomfortable with the subject matter. The erotic books referred to in the title are just the beginning–there's sexually-themed torture and orgies and other stuff I skimmed through. It's supposed to be the first in a series. I liked Bevan and Anne enough that I'd be willing to give the next book a try, but I personally hope the subject matter is a bit more palatable.
This is on tour with TLC. Click through to see the page on Thomas Shawver's new book to find out more and see links to others' thoughts.
Giveaway
This tour includes a Rafflecopter giveaway for a Grand Prize of a $30 egiftcard to the ebook retailer of the winner's choice, and a First Prize Mystery Prize Pack of three mystery mass market paperbacks!