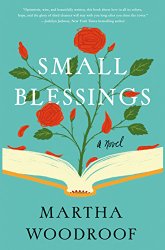 In a small college town, one might think tradition is king. On the surface, this might be the thought for the students and residents here, for at first glance, the cast of characters introduced in the beginning chapters do seem to fit their respective roles, most especially quiet and unassuming English professor Tom Putnam. But as readers get into the world created by Martha Woodroof in Small Blessings, they'll soon discover a delight of a novel filled with wacky characters and unexpected twists and turns.
Wacky might be an understated term for the characters in this novel. They're not your standard, everyday people, though they end up being wholly relatable and undeniably endearing. Tom Putnam has come to accept his lot in life, for when he's not busy with his professorial duties, he spends his time in caretaker mode, along with his live-in mother-in-law Agnes, for his wife Marjory whose debilitating anxiety and various neuroses have basically rendered her a shut-in. On one of the rare occasions that she leaves the house with Tom, their paths cross with Rose Callahan, newly hired at the campus bookstore to help "build community." Utterly surprising to Tom, Marjory actually appears to connect with Rose, something completely out of character for his extremely introverted wife. Perhaps in the extended gaze Rose and Marjory share, something passes between them, for though this will come to be their one and only interaction, their characters will have touched each other profusely by the conclusion of this charming story.
The development of Rose's character stands out for both its thoughtfulness and thoroughness. Rose's confidence and unparalleled grace in all social circles seem to confound many people, especially those accustomed to the presentation of a public persona that is often at odds with the unseen inner character. Rose is simply Rose- open and friendly, seemingly unattached to anything or anyone in the world, and appearing to live in the moment more than most would think possible. But, even Rose has truths to face, and her self-awakening is gradual and subtle, though not without its ups and downs, as readers soon come to expect the unexpected!
I would be doing potential readers a disservice by saying much more about the novel's plot, but suffice it to say that the first few chapters not only introduce a handful of unique and interesting characters, but they also set in motion more than one story line, with a significant one featuring a ten-year-old child whose existence is a complete surprise to his alleged father. Once again, plots that have been depicted in plenty of novels before are presented in a refreshing and unpredictable manner here. Even with a love story at its heart, the traditional depiction of love gets tossed out the window, and in its place love blooms instead in a variety of forms, also expanding the definition and scope of family in its wake.
The best assessment I can give from my personal experience reading this novel is this- I couldn't help but chuckle repeatedly, and a smile was plastered on my face almost the whole time.