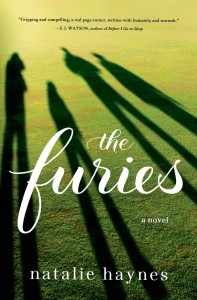 Alex Morris moves from London to Edinburgh after the loss of her fiance. She goes to work teaching drama therapy at a school for troubled children, leaving behind a promising career as a play director.
One of her classes in particular, a group of 15 year olds, catches her heart. They balk at the idea of the waste of time, and though a couple of them struggle in school, a few crave a real challenge, so they begin discussing Greek tragedies with Alex.
This is a psychological thriller told in the Alex's first person voice (which is a little heavy-handed at times, "I, I, I") as well as diary entries and letters from one of the students who gets a little too interested and involved in Alex's life.
I enjoyed the look into these teens' lives as well as the teachers and faculty who don't give up on them. Watching things take a turn for the worst — both under Alex's nose and yet behind her back — kept me reading. From the opening paragraph, we know that something has gone wrong with one of the students and Alex is involved in the official inquiry. We don't know what happens until towards the end, and of course we don't know how it's all going to work out until the very end.
The Furies is similar to many psychological thrillers, and especially brought to mind What Has Become Of You, another teacher in which an inexperienced teacher gets in over her head with a student's involvement. But I still enjoyed this story on its own and recommend it to fans of psychological thrillers or that teacher/troubled student plot.