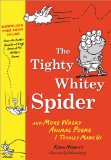 "Can we read another poem?"
How can a mom say no to that? My (almost) six-year-old son and I have really been enjoying The Tighty Whitey Spider: And More Wacky Animal Poems I Totally Made Up by Kenn Nesbitt. I like it because we can read a few poems at bedtime or breakfast or anytime during the day. He likes it because they are silly and ironic, with many of them setting a scene and then revealing a surprise twist at the end.
Another big hit are the poems that are sung to the tune of songs, such as the title poem, "The Tighty Whitey Spider" sung to the tune of "The Itsy Bitsy Spider." For the first week, each time we opened the book we had to sing that one before we read any new ones. There are also poems sung to "Frere Jacques" and "On Top of Old Smokey."
Even the spoken poems have great meter which make this fun to read aloud. The rhymes aren't forced at all.
The line drawings add just enough interest to the poems and pages.
This book should appeal to all elementary-aged kids who like humor: fiction-readers, non-fiction, reluctant readers, or little bookworms.
I'm loving it so much I'm giving it 5 Stars.
Content Advisory: There is some "body humor" such as the "water wedgie" that the Tighty Whitey spider gets, and from "A Rock Makes an Excellent Puppy" we learn that "rocks never pee on the carpet." If you try to avoid that type of humor, you might wait for a few years, but my Kindergartener and I love it.
Visit poetry4kids.com to learn more about Kenn Nesbitt, and in honor of National Poetry Month in April you can download My Hippo Has Hiccups FREE!
Jennifer Donovan isn't sure there's a sound better than a child's laughter. She blogs at Snapshot.