Ironically, just a couple of days after posting the letter from Bernice McFadden about how books by and about African American authors are often only marketed to these groups, I received an unsolicited shipment of some delightful product tie-ins from The Princess and the Frog movie (For the real story, try The Best of Grimm's Fairy Tales: In Modern Language).
As you likely know, this newest "Disney Princess" is African American. I couldn't help but wonder if it will affect their ticket sales or ever-important product and DVD sales. Will little girls who aren't African American fall in love with Tiana? (As an aside, I personally know a grown-up African American girl/woman who is thrilled to see a Disney Princess who shares her skin color). Judging from my own "new generation" children's color-blindness, I don't think that her skin color will be the determining factor of her acceptance or not. It's probably all about the movie (and the DVDs and the product tie-ins).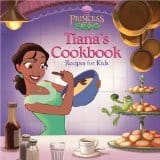 The Princess and the Frog opens wide tomorrow, and the box office will tell. I haven't seen it yet, but it looks like a great story, and I love the classic hand-drawn look. It just makes me feel nostalgic.
As always the Disney machine is in full tilt here. These tie-in toys and products are awesome. What I'd like to highlight here (since we are a books' site after all), is the cookbook. After looking through it, I can heartily recommend Tiana's Cookbook: Recipes for Kids. I've always enjoyed cooking with my kids, and I've bought my fair of kids' cookbooks. Movie tie-in aside, this is a great cookbook, featuring recipes from New Orleans, where our Disney princess resides in the midst of the jazz age. There are pictures of each recipe, the print is large and simple (easy for the budding chef to manage — whether he or she is eight or thirty-eight). In addition to photographs of each recipe, the movie's characters appear throughout the book.
I love New Orleans and Cajun cuisine, and there's a fair representation here — from the classic Muffaletta sandwich to Jambalaya to Red Beans and Rice (using canned beans — forgive them — but no kid-chef could stand to wait 3 hours for their creation to come together.
There are also more whimsical projects such as "Froggy in the Water" cupcakes — adorable.
I highly recommend Tiana's Cookbook: Recipes for Kids — either to fans of the movie or just kids who like to cook — so much so that I'm deeming it a 5 Star Read (check out the others on our list).
Jennifer Donovan loves reading, traveling, and cooking. She is thrilled when all three interests intersect. Read about her other loves at her blog Snapshot.