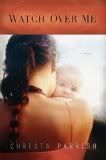 I have heard the claims that Christian fiction is one-dimensional and fluffy, and I admit that I have read some Christian fiction that supports this. I believe, however, that quality Christian fiction exists, and the number of talented Christian authors is increasing.
In her new novel Watch Over Me
, Christa Parrish writes a compelling story that is filled with real-life problems and raw emotions. Although there are numerous problems for different characters, including bulimia, post-traumatic stress disorder, and an abandoned baby, Ms. Parrish weaves them together in an authentic way, creating a story that is touching and true-to-life.
Watch Over Me
is a story that feels real. Benjamin and Abbi, the main characters who are struggling to hold their marriage together, could be your neighbors or family members. The frustration they feel towards God in the midst of their crisis is the same pain we all feel when we ask, "Why?" And just like real life, not all problems are solved neatly and effortlessly in the end.
I truly enjoyed this novel, and I applaud Christa Parrish for writing Christian fiction in such an authentic way. If you are looking for a contemporary story that will touch your heart, be sure to pick up a copy of Watch Over Me
. I highly recommend it.
Lauren is a wife, a mother of two, and an avid reader. She blogs at Baseballs and Bows. Lauren thanks Bethany House for providing the review copy of this book.