When I (Jennifer) received this email in our 5 Minutes for Books mailbox, it was something that I wanted to share with all of you, and I asked if the author if I could share it in full with you.

I hope you'll share your own thoughts or experiences in the comments after reading her thoughts:
Dear Book Lover:
You may not know me, or my novels, because I am a member of a growing band of African-American writers of literary fiction who are slowly disappearing. And not because I am lacking in talent and credentials; in fact I have already published a number of books with major publishing houses and have been reviewed by national newspapers and well-respected literary journals, and have received critical acclaim and awards for my efforts. My work has been hailed as vivid, thought provoking and brilliant. I have been compared to Toni Morrison, Alice Walker, Zora Neale Hurston and Gloria Naylor.
The fact that my novels may disappear is not due to the downward spiral of the economy or the pound of flesh it has taken from the book-publishing industry. No, my demise began long before the floor of the housing market began to rot away and the stock market crashed through.
Why?
I don't rightly know why publisher's market fiction written by African-Americans ONLY TO African-Americans – but it has become common practice. And by doing this, they've placed all AA authors in one box forcing them to compete for the attention of ONE audience.
The word that has been coined to describe what is happening to AA writers is: Seg-Book-Gation
Segregation is an abominable practice no matter how you slice it – but when you apply it to art — it becomes a sin. Art of any medium should transcend color, race, class, religion and ethnicity, but alas, that is not the case in the publishing world.
AA literary writers like myself are being pushed out of the industry all together as we are no longer able to secure book deals, because publisher claim that AA readers are only interested in buying books about sex, street-life and drugs. We know that this is not the case. We are a diverse people, interested in a variety of subjects.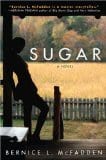 On January 9th, 2010, my debut novel, Sugar will celebrate its 10th anniversary. In order to commemorate this occasion, it is my great hope that this moving story of friendship and acceptance will sell 10,000 copies between now and the anniversary date.
It is my dream that the surge in sales for this decade old novel, will send a message to the publishers that we readers desire …crave and DEMAND a variety of literature from our AA writers because their stories are just as riveting, thought-provoking and universally appealing as the stories coming from their non-African-American counterparts.
***STOP PUBLISHING FROM RACIALIZING LITERATURE***
Please purchase at least one copy of Sugar for yourself, a friend or family member and spread the word as far and wide as you can.
Peace & Light,
Bernice L. McFadden
Bernice L. McFadden is the author of six critically acclaimed novels, including the classic Sugar and Nowhere Is a Place, which was a Washington Post best fiction title for 2006. Her long awaited seventh novel, Glorious will be published in May 2010.
Visit Bernice at: www.bernicemcfadden.com
email questions/comments: [email protected]