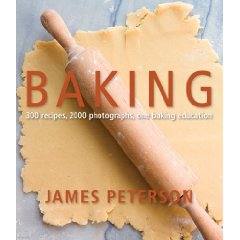 Baking
, by James Peterson is an amazing treatise (for me anyway) on the art of baking. I like that Peterson introduces the book by saying that baking isn't something that just came naturally to him. Rather, it is something that he has spent a good 40 years working on. I'm not quite so far along as that, having only been baking for about 5 years. However, it is something that I enjoy doing to some extent with a moderate degree of success (measured only by what comes out as truly edible, of course).
In Baking
, Peterson explains the following:
"Often the difference between an ordinary cake and a fantastic one involves only a simple trick or two. In each chapter and recipe, I have tried to take every opportunity to teach good technique, whether in headnotes and recipe methods or in the many sidebars with stand-alone tips and techniques. Baking describes what can go wrong and how best to avoid common pitfalls such as over-or under-beating, but also how to use little bits of extra knowledge to get great results rather than merely good ones."
I think that he states the difference well between a good baker and a great one. A great one knows little tips and tricks that make cakes come out of the pan easy and smooth, and how to keep dough from drying out. (Think Julia Child whipping eggs.) I read through Peterson's introduction before it was time to embark on one of the greatest baking days of the year — Thanksgiving! I took my time trying to understand exactly what Peterson was trying to do for his reader – which is to make their baking and eating experience all the more enjoyable, and I looked at the pictures. There are over 1500 pictures in this book which show you, sometimes, the step-by-step process for putting together a particular food item. For visual learners, this book is stellar.
To get a feel for how well this book might be able to teach me to be a better baker, I chose two recipes to experiment with. The first recipe I chose was the apple strudel, the looks of which freaked me out. Plus, it had a dough that had to be meticulously rolled out until it is about 2 or 3 feet and you can see your hands through it. (I cheated and had my husband do the rolling part, because he is more meticulous than I. He found it to be really difficult to get the dough rolled that thin.) I think I did something wrong though with the flour to water ratio, which made it a bit tougher. It turned out to be a "good" strudel, but not an awesome one, so I'll have to try it again. Nevertheless, I really appreciated the pictures attached to the recipe (20 pictures total for this recipe alone!) that helped me to see how the dough was supposed to be looking, and how it was folded. Very, very helpful.
The second recipe I tried was the banana nut muffin, for which I already had an existing recipe but wanted to see how Peterson's instructions and recipe fared in comparison. His tips for mixing the dough turned out to make a huge difference in the consistency of the muffins and they were, by far and away, the best muffins I have ever personally made. I could have eaten the entire batch myself which would have done me no good but I would have enjoyed doing so.
I really have loved using Baking
and anticipate pulling it out many times over during the course of my lifetime baking career. His tips are helpful and the pictures are a superb accompaniment to the detailed and descriptive instructions.
This book is well done, very much enjoyed and therefore highly recommended if you like to bake and/or would like to improve in your skills.
Carrie comes by her book obsession honestly, having descended from a long line of bibliophiles. She blogs about books regularly at Reading to Know and Reading My Library.